Florida Shape Off
The 2023 Florida Shape-Off at Surf Expo, the annual surfboard shaping contest and exhibition that promotes the craft of hand-shaping surfboards, honored legendary Florida shaper Bill "Holmesy" Holmes. This year's contest in January featured shapers attempting to replicate one of Holmesy Surfboards' legendary shapes out of a foam blank in a two-hour period. Live shaping took place daily at the January 2023 show in the Shaping Booth. Shapers included Ryan Conklin, Sean Piper, Josh Peterson, Mike Karol, Jim Hannan, Stu Sharpe and Jeff Haney.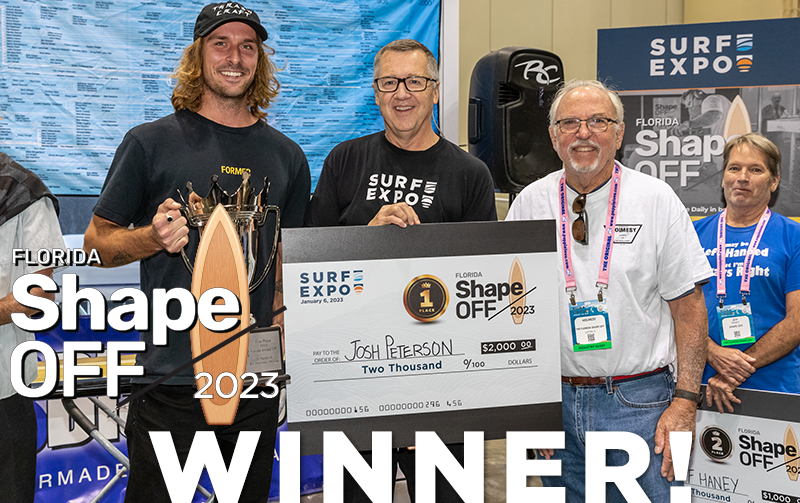 1st place: Josh Peterson | 2nd Place: Jeff Haney | 3rd Place: Jim Hannan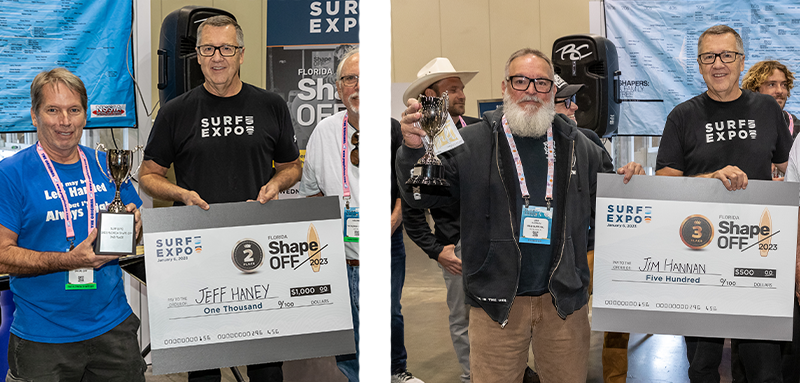 About Holmsey
Bill Holmes was born in 1945 in Pasadena and grew up in Southern California. He learned to surf at the age of 12 in Del Mar and got his first surfboard, an 8'6" balsa board, from the Dale Velzy Surf Shop in San Clemente.
Bill shaped his first surfboard when he was 15, glassing it in his parents' kitchen. From 1962 to 1964, he worked at Hobie Surfboards in Dana Point, connecting with surf legends such as Phil Edwards, Mickey Munoz, Mike Diffenderfer, John Severson, Corky Carroll, Mike Hynson, and many others.
Already an accomplished surfboard shaper in California, Holmes moved to Florida and opened Holmesy Surf Shop with Jon Schmid in Juno Beach in 1964. As one of the few shapers in Florida, his boards became more and more popular and his brand developed a large following on the East Coast. He adapted many versatile designs of the era and sold boards to many of the top East Coast shops.
From 1964 to 1971, Holmesy produced more than 4,000 custom boards, each with its own unique design. He marketed his boards with a top-notch surf team. One of his most unique shapes was the Sidewinder, a longboard design conceived in the summer of 1966. It was created for prolonged and controlled nose riding, with distinct slots and a scoop in the tail section.
View photos from January 2023.