Remembering Cecil Lear 1930-2022
The Surf Industry lost an absolute legend on Sunday, January 16th, 2022. Cecil Lear was a giant in our world, a caring and wonderful man that gave only of himself to our culture, our athletes and the preservation of the sport.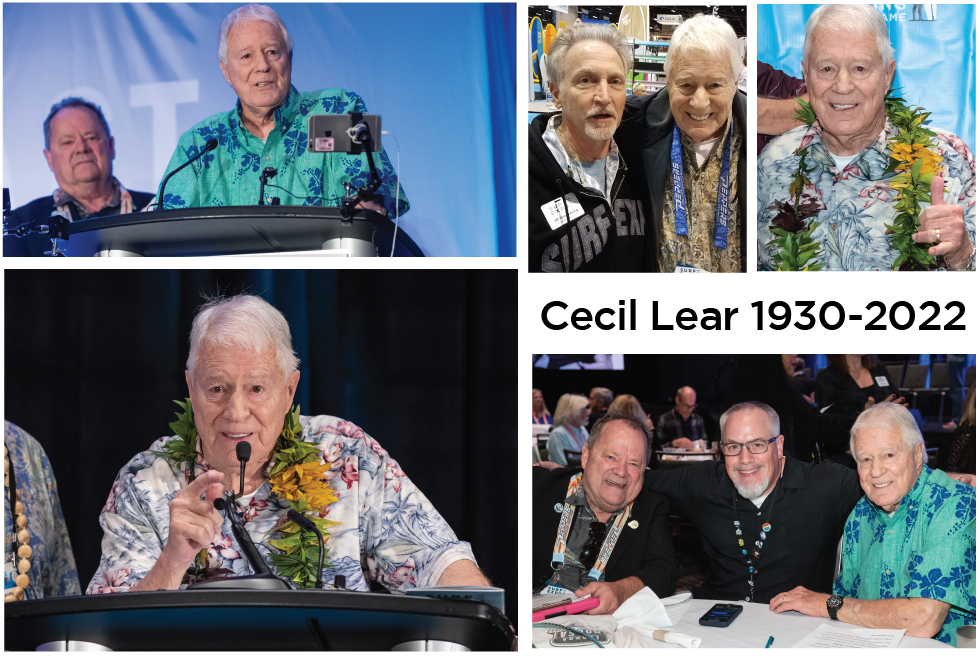 Cecil Lear was 91 at his passing. Born in 1930 and hailing from New Jersey, Cecil picked up his first board and began surfing in 1962. He established the Jersey Surfing Association soon thereafter and co-founded the Eastern Surfing Association in 1967. Along with Greg "Da Bull" Noll, Cecil co-founded the East Coast Surfing Hall of Fame in 1996. Serving as president until 2017, he stepped aside to be the President Emeritus. Cecil was inducted into the East Coast Surf Legends Hall of Fame as part of their initial class of '96 as well as the New Jersey Surfing Hall of Fame in 2015. Receiving many accolades and awards along the way (including the Surfer Magazine Surfer's Cup award, the Nancy Katin Recognition Award and the Lifetime Achievement Award presented by the Surfing Heritage And Cultural Center in 2015), Cecil's dedication to East Coast surfing, and surfing in general, cannot be matched. He was inducted into the Huntington Beach Surfers Walk of Fame in the 2021 class, honoring his dedication to Surf Culture. He was a coach and official for the World Surf Championship and a tireless supporter of surfers and surfing around the world. Cecil was a loving husband to Mary Lou for 67 years, father to Nancy and Jeanne.
A humble man, always smiling, always supportive, Cecil will be sorely missed at Surf Expo events and walking the aisles. The staff and all participants were stoked and honored to see him and Mary Lou at the January '22 event. He is loved and respected by all.