Psycho Tuna –

We chatted with Patricia Thornton, VP of Psycho Tuna, about the brand's mission, success, and plans for the January 2022 Surf Expo.
Psycho Tuna, which plays off the Hot Tuna brand name from the 1980s, is aiming to reach the surf, fish and boutique markets. The brand specializes in men's pool shorts, boardshorts, and graphic T-shirts for the surf lifestyle markets. Some key accounts include Sun Diego, WRV, Coastal Edge, Farias Surf & Sport, and Ron Jon Surf Shop.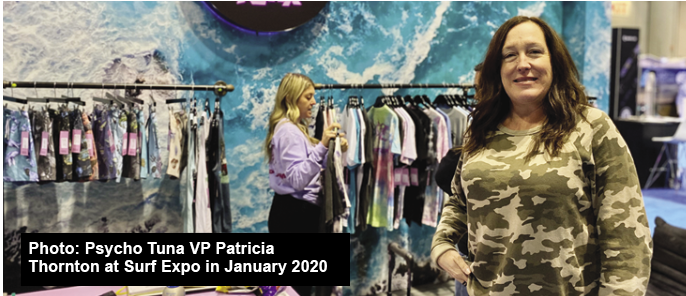 The brand is the brainchild of Patricia and her boss at denim manufacturer Ring of Fire, Eran Bitton. Ring of Fire, which makes denim for large retailers as well as private label denim for surf shops, has a lot of apparel expertise.
Before Psycho Tuna, Patricia spent nearly 10 years at Maui & Sons and helped revive that brand at core surf stores and high-profile accounts like PacSun.
For those who might not know Psycho Tuna, what would you say your brand is best known for?
Patricia Thornton: I would say we are best known for our hand drawn art and colorful graphics. We develop our fabric in house, so we are becoming known for the quality of our goods and the sustainable piece of our products.
Tell us about any new products that you're launching at the January Surf Expo?
Patricia Thornton: We will be showing Fall '22 and are launching woven UV shirts and other new categories.
Why do you attend and exhibit at Surf Expo? How many Surf Expo shows have you exhibited at?
Patricia Thornton: Surf Expo is and continues to be one of the best shows. It is so well curated and easy for buyers to find new brands and ones they already partner with.
Fish (Surf Expo Buyer Relations Manager Steven Fisher) does such a great job of bringing retailers and brands together which is huge! Psycho Tuna has been exhibiting at Surf Expo since 2019. I have been attending the show for over 10 years working with a previous brand.
How is your business this year, and what are your bright spots?
Patricia Thornton: We had an insane year! For a new brand that launched right before COVID-19 we are beating my goals, which is awesome. I have a great team of reps who are veterans in the industry which has been super amazing.
Anything exciting for the brand on the horizon?
Patricia Thornton: Selling into other countries which is great as we are so new. Those countries include Japan and Canada to name a couple!