Show News
SEPTEMBER 2022 SURF EXPO RECORDS 16% ATTENDANCE INCREASE
Posted 09/19/2022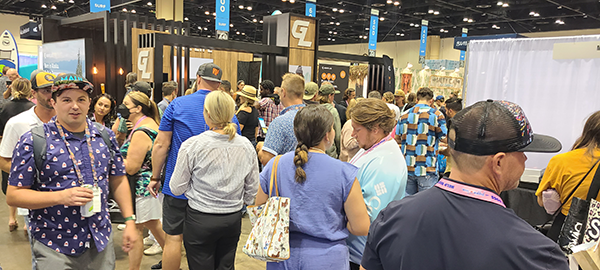 Orlando, Fla. (September 19, 2022) – Surf Expo, the premier watersports and coastal lifestyle tradeshow, wrapped up its September 8-10, 2022 edition bringing together more than 7400 industry professionals in Orlando for optimum buying convenience.
"With each edition of Surf Expo since the pandemic, we continue to see retailer attendance increasing, and this show was a continuance of that with a 16% increase year over year," said Roy Turner, Surf Expo SVP and Show Director.  "We drew retailers from Hawaii, Puerto Rico, St. Johns and the surrounding Caribbean, who had not attended since the pandemic. Buyers and brands alike were glad to be back at Surf Expo and getting back to normal."
This year's event featured an 18% increase in square footage compared to the previous September show with more than 645 exhibitors, including 150+ new brands to the show.
Notable new brands on the floor included Bartolo Beachwear, Benson, Carver Skateboards, Chasefire Outdoor,  Guy Fox California, Hang Loose, Imago Portugal,  iROCKER SUP, JBAY.ZONE, Johnny Fly, Lake Label, LaTAN Swim, Marine Layer, Martha, Mono Wakesurf, OneOne Swimwear, Phoozy, Puffin Coolers, Roostas, Saint Maddox, Salty Home, Seatec Outfitters, Sea & Grass, SMKFLWR, The Wave Hut and Trippy Outdoor.
Surf Expo's energetic show floor had a fun and up-beat vibe reminiscent of pre-pandemic times where buyers and brands felt comfortable and relaxed conducting business and reconnecting face-to-face over the three-day show.
"Surf Expo is dynamic, cool and it helps us conduct business with our retail partners in a way that makes it feel like we are meeting with family," says Lauren Behning, Dune Jewelry.
"It was nice to be back at Surf Expo. I ended up buying all day and staying until the show turned off their lights every day," says Liza Blok-Ponse, Tee Company, Noord, Aruba.
"Surf Expo is great for our business. We found several new lines to add to our ManCave store and we were able to touch base with our current vendors, touch the products and converse face to face," adds Molly Buckley, owner, St. Croix Ultimate Bluewater Adventures.
Surf Expo hosted several special events and amenities for buyers. Key events included a keynote address, "Transformation After Disruption – The Code to Ride the Next Wave," from world champion surfer, author and entrepreneur Shaun Tomson on Friday morning. Other events included the Surf Expo Industry Party presented by Body Glove and the Post Show Mixer presented by Atunas. In addition, there were many brand-sponsored happy hours, free professional learning labs and multiple fashion shows.
Surf Expo will return January 4-6, 2023 to the Orange County Convention Center's West Concourse. Find out more about attending, exhibiting, sponsorships, or other opportunities at Surfexpo.com.
About Surf Expo
Surf Expo is largest and longest running watersports, beach and resort lifestyle tradeshow in the world. Produced twice annually in January and September and draws buyers from stores across the U.S., the Caribbean, Central and South America and around the world. The show features hundreds of apparel and hard goods brands and a full line-up of special events, education and awards ceremonies. Surf Expo is a trade-only event.  Visit www.surfexpo.com for more information.
About Emerald
Emerald is a leader in building dynamic, market-driven business-to-business platforms that integrate live events with a broad array of industry insights, digital tools, and data-focused solutions to create uniquely rich experiences. As true partners, we at Emerald strive to build our customers' businesses by creating opportunities that inspire, amaze, and deliver breakthrough results. With over 140 events each year, our teams are creators and connectors who are thoroughly immersed in the industries we serve and committed to supporting the communities in which we operate. For more information, please visit www.emeraldx.com .
Media Contact:
Amy Dufour
Marketing Manager, Surf Expo
Amy.Dufour@surfexpo.com