Florida Shape Off
| | |
| --- | --- |
| | The 2024 Florida Shape-Off at Surf Expo, the annual surfboard shaping contest and exhibition that promotes the craft of hand-shaping surfboards. |
This year's honoree is Bill Frierson, Wave Riding Vehicles (WRV).
Shapers: Jordan Brazie, Lynn Shell, Scott Busbey, Brett Prinz, Jeremy McMahon, Jesse Fernandez, Ryan Harris
About Bill Frierson
Bill Frierson keeps good company these days, after joining the likes of Duke Kahanamoku, Hobie Alter, Gerry Lopez and a number of other notable shapers as a member of the International Surfboard Builders Hall of Fame. "A lot of heavy cats," remarked Frierson at the time of his induction in October 2019. "It's pretty humbling, actually. There's a lot more to the award than just doing it for so long. The beauty of the whole thing was the journey."

That journey started in 1965 when Frierson was a young surfer coming up in Virginia Beach. He befriended Pete Smith and Bob Holland, who had recently opened the area's first surf shop. Two years later, Frierson started shaping boards for Bob White at Wave Riding Vehicles (WRV). "I was helping to repair dings back then, and he asked me if I wanted to shape," he said. "It was pretty much a Cadillac Dream."
Frierson surfed for the Hobie team from 1965 through 1967, won the Men's division of the East Coast Surfing Championship (ECSC) in 1969, and is a member of the ECSC Legends Hall of Fame. In 1970, he moved to Kitty Hawk, North Carolina, where he shaped boards for WRV. He wintered in Indialantic, Florida, doing piece work for the newly formed Sunshine Surfboards.
He teamed up with Les Shaw in 1974 to buy WRV, and together they built the business into what it is today — two showrooms and a factory capable of producing 3,000 boards a year. He sold his half of the business in 1997 to open Frierson Designs, where he shapes every board by hand. Owning a Frierson board is considered a badge of honor in the surfing community.
Frierson says his newfangled status as a hall-of-fame shaper will not impact the price of a Frierson stick. "It's never been about the money for me," he said. "I'm a man of the people and I make a good board for an honest price. It's about the art."
– Content and pics courtesy East Coast Surfing Hall of Fame.
---
In January 2023 shapers attempting to replicate one of Holmesy Surfboards' legendary shapes out of a foam blank in a two-hour period. Live shaping took place daily at the January 2023 show in the Shaping Booth. Shapers included Ryan Conklin, Sean Piper, Josh Peterson, Mike Karol, Jim Hannan, Stu Sharpe and Jeff Haney.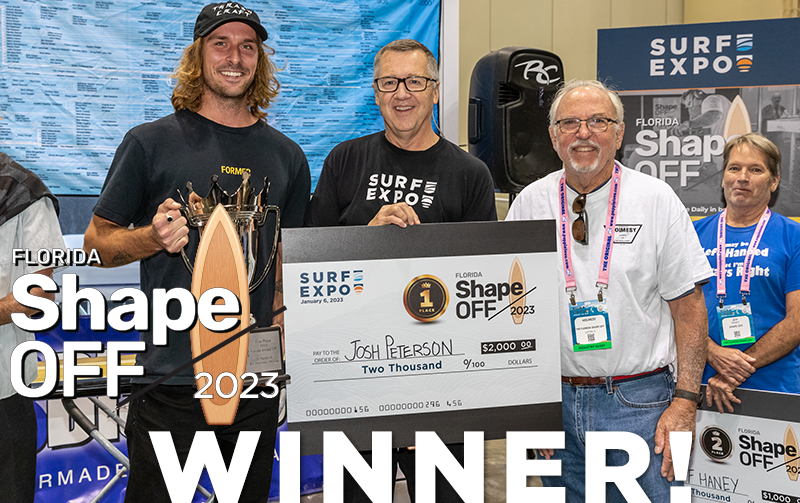 1st place: Josh Peterson | 2nd Place: Jeff Haney | 3rd Place: Jim Hannan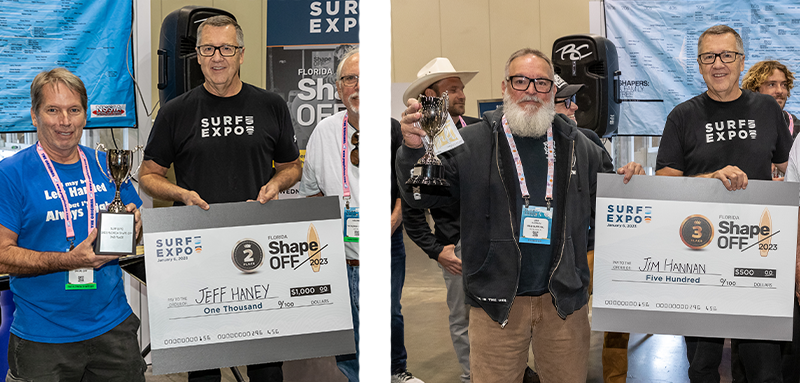 View photos from January 2023.