Press Releases
Surf Expo Welcomes Surf Park Summit 2 in September
Industry-focused event will be held at Surf Expo this summer to discuss the new culture of surfing away from the ocean.
Posted 04/19/2016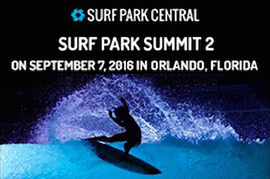 San Juan Capistrano, CA – March 24, 2016 – Surf Expo is pleased to announce the co-location of Surf Park Summit 2 with Surf Expo's September 2016 show. Surf Park Summit is the largest industry conference designed for surf park entrepreneurs, investors, developers and suppliers to accelerate the growth of surfing outside the ocean. The conference will take place on Wednesday, September 7, 2016 at the Orange County Convention Center.
"Surf Expo is excited to host Surf Park Summit at this summer's show. As the marketplace for global water sports, we see future development of wave and wake parks as a way to expand participation of two of our key market verticals. We welcome the technology, finance and business leaders in the wave park category as we look to support the growth of surf, beyond its traditional boundaries," said Surf Expo VP and Show Director Roy Turner.
With the new era of artificial waves saturating the globe, Surf Park Summit 2 will gather the industry's top influencers to discuss the opportunities and challenges related to the development of man-made surf destinations. The summit's vision is to build authentic, sustainable and profitable surf experiences to grow the surf industry and provide the mental, physical and emotional stoke of surfing to those who don't have access to the ocean.
Surf Park Summit was founded by Surf Park Central in 2013. John Luff, President of Surf Park Central added, "When our team sat down and discussed potential venues for Surf Park Summit 2, the clear winner was Surf Expo. As the world's leading board sports and beach lifestyle trade show, we see Surf Expo as the perfect venue to host our global event focused on taking surfing and the beach culture beyond the coasts."
Surf Park Summit 2 features will include a wave technology panel with the industry's top companies and experts showcasing the latest breakthroughs of the industry, presentations by key industry executives, governing bodies of competitive surfing & SUP, and surf pool operators, in addition to finance and funding solutions and opportunities for surf park and surf pool centric real estate developments. Those interested in attending Surf Park Summit 2 can request an invitation at https://surfparkcentral.com/SurfParkSummit2/ .
Why Attend Surf Park Summit 2?
Understand The Opportunity In Man-Made Surf Destinations:
The ability to develop world class surfing destinations anywhere in the world is now upon us. The ramifications for the real estate sector are massive. Get a clear vision for you and your company's approach to capitalizing on a new era of surf destinations beyond the ocean.
Network With the Best in the Industry:
You'll spend a significant portion of your time connecting with top level executives, developers, owners, operators and investors. From private and public companies to government officials and surf industry executives to the leaders in wave technology these are the people shaping the future of surfing outside the ocean that you want to meet.
Get a Head Start on Your Competitors:
Many companies are already developing surf parks, surf pools, indoor surf venues and surf anchored destinations but not all have the resources, expertise and perspective to do so effectively. Connect with the leaders in the emerging surf park industry before your potential competitors gain a decided competitive advantage.
The After-Party. Surf & Relax at Disney's Typhoon Lagoon Surf Pool & Beach:
All attendees at Surf Park Summit 2 will have the opportunity to catch waves in the surf pool at Typhoon Lagoon during our after-party. Enjoy a few beverages, watch fellow attendees surf (and wipe out!), listen to live music and feast on hors d'oeuvres over the course of the evening paired together with the networking, learning and business opportunities.
Learn About the Top Trends in Surf Park & Man-Made Surf Destination Development:
From conceptualization, pre-development and design to business planning, financing, operations and beyond. You'll hear and learn from a variety of leaders and experts in the field on how best to approach surf park development and create the ideal man-made surfing experiences and destinations.
Identify Potential High-Value Partners:
Whether you're a retail real estate developer or mall owner looking for a surf park tenant, a land owner looking for a joint-venture partner, a City entity looking for a surf park development group or a surf park developer looking for additional capital sources, vetting wave technologies and surf park suppliers this is the event of the year to do it. Registered attendees will include a broad range of individuals and companies from many sectors that encompass some of the world's most exciting real estate, leisure and entertainment developments.
Insure You're Making Intelligent Decisions & Avoiding Pitfalls:
By learning from the surf park industries pioneers and mavericks you'll be hearing the insights and lessons learned from those that have already walked a path similar to that of the one you and your team are preparing to embark upon. The takeaways, knowledge and contacts you'll gain throughout the course of the event will be invaluable in you're planning and comprehensive development process.
Complementary All-Access Passes to Surf Expo
All registered attendees at Surf Park Summit 2 will also receive complementary registration to Surf Expo. As the longest running and largest board sports and beach/resort lifestyle tradeshow in the world this is one that you'll likely want to check out. Best part is, Surf Expo runs from September 8th-10th in Orlando and you'll already be in town!
###
About Surf Park Central
The first Surf Park Summit was held in Laguna Beach, CA in September of 2013 with over 300 attendees from 30+ countries including 3 world surfing champions and a range of great speakers. Co-Founded by Dr. Jess Ponting of SDSU's Center for Surf Research and John Luff of Surf Park Central, the event attracted global media attention including Yahoo! News, NBC, Forbes, ESPN, USA Today and the Associated Press. Over 100 combined TV, digital and print publications covered the event.