Press Releases
Surf Expo Celebrates "Bustin' Down the Door"
Celebration of show's milestone to include iconic film chronicling the rise of pro surfing in 1976.
Posted 01/05/2016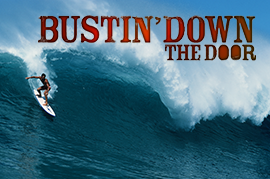 Posted 1/5/2016
Atlanta, GA. – This year Surf Expo celebrates its 40th anniversary as the multi-billion dollar surfing industry's largest and longest running tradeshow. The launch of the tradeshow in 1976 coincided with the establishment of pro surfing and a lifestyle that has captured the imagination of the world. To commemorate its 40th anniversary, Surf Expo in January 2016 will be presenting a film and photographic exhibition of Bustin' Down the Door, a film that chronicles the rise of pro surfing and the emergence of the surfing industry over a tumultuous year in 1976.
The film features 6 iconic watermen who had a fundamental impact on the sport and industry of surfing. In attendance at Surf Expo, to meet show attendees will be four of the surfers who kick-started a surfing and business revolution:  Ian Cairns, Shaun Tomson, Peter "PT" Townend and Michael Tomson.
Roy Turner, Show Director of Surf Expo said, "Surf Expo and professional surfing started together in '76, and over the last forty years we have built a lifestyle and industry together that has bought joy to millions of people across the world. We are stoked to have four of the all-time greatest surfers with us to celebrate this milestone – not just athletes but also the architects of pro surfing and the surf industry."
The 40th anniversary celebration will commence on Friday, January 15 with a happy hour on the main floor show at the Bustin' Down the Door exhibit featuring surfboards, apparel and photographs from the period. Posters and books will be available for signature and sale and all show attendees are invited.
2016 also marks some other notable 40th anniversaries in the surfing world:
The crowning of the first World Pro Surf Champion – Peter " PT" Townend, the establishment of Quiksilver in the USA, the release of the groundbreaking film Free Ride, and the founding of Da Hui in Hawaii, as well as the 20th Anniversary of The East Coast Surfing Hall of Fame, and the 25th Anniversary of Eastern Surf Magazine.
About Bustin' Down the Door

Bustin' Down the Door is an award-winning documentary that chronicles a tumultuous two-year period of competitive and cultural clashes in the mid-Seventies on Hawaii's North Shore of Oahu. Bustin' documents how a small crew of Australians and South Africans risked everything to become the best surfers in the world, and how their courage and vision created a cultural revolution that led to the birth of professional surfing and ultimately today's billion-dollar surf industry. The film features narration by Academy Award nominee Edward Norton and a period soundtrack that includes David Bowie, Iggy Pop and Leonard Cohen. The film was directed by Jeremy Gosch, and was produced by Monika Gosch, Robert Traill and Shaun Tomson.  Bustin' was filmed on the North Shore of Oahu and features surfing icons Wayne "Rabbit" Bartholomew, Ian Cairns, Mark Richards, Peter Townend, Michael and Shaun Tomson, Kelly Slater and Rob Machado.
About the Surfers
Shaun Tomson: As a competitor, Tomson's consistency and longevity marked one of the most prolific careers in professional surfing. He became South Africa's most successful surfer, winning the country's largest event, the Gunston 500, six times in succession and winning the World title in 1977. His popularity was immense, garnering him top honors at the 1978 Surfer Poll and successful business ventures with Instinct Sportswear and Solitude Clothing. He has been called the greatest tube rider of all time, was listed as one of the 25 most influential surfers of the century (Surfer 1999) and one of the 16 greatest surfers of all time (Surfing, 2004).  Tomson is a former board member of Surfrider Foundation and is currently on the board of Boys and Girls Club. He has a Bachelors in Business Finance and a Master of Science in Leadership. He speaks around the world to corporations and schools on attitude change and is the author of the best-sellers "Surfer's Code – 12 Simple lessons for riding through life" and "The Code – The Power of I Will."
Peter Townend- Townend was born in Coolangatta, Australia and became the first World Pro Surfing in 1976. Shortly after Townend co-founded the Bronzed Aussies in an attempt to not only legitimize surfing, but build a global franchise and attract big bank sponsors to the sport. In 1979 he moved to Huntington Beach to serve as America's National Team coach and executive director. During his tenure, he coached many future world tour contenders including three-time world champion Tom Curren and coached the Americans to a win at the World Amateur Championships. By 1984, Townend began working for Surfing Magazine eventually moving up to associate publisher and advertising director. This led to a position as marketing director for Rusty surf wear in 1999. He was president of the Surf Industry Manufacturers Association (SIMA) for two years and helped found Surfing America. He is founder and owner of ActivEmpire a company which specializes in action sports brand and media consultancy, coaching, athlete management and promotions. In 1998, Townend was inducted into Huntington Beach Walk of Fame, the Australian Surfing Hall of Fame in 2001, as well as the International Surfing Hall of Fame. He received the lifetime achievement award from SIMA in 2013.
Michael Tomson – Tomson was born in 1954 and raised in Durban, South Africa and began surfing at age 10.  As a surfer, the strong-jawed Tomson is best remembered for charging into the tube at Pipeline during the winter of 1975–76, when he helped lead the "backside attack" that brought regular footers nearly up to the same level as goofy footers at the world's most famous break. Compared to the other top-flight pros of the age, Tomson's style was blunt, even raw, but he rode smartly and fearlessly. Michael finished #5 in the world Pro Championships in 1976 and won the 1978 Hang Ten in South Africa. Tomson eventually became an assistant editor at Surfing Magazine, and went on to publish nearly 75 columns and features in the American surf press between 1976 and 2000. Tomson emigrated to America in 1978, moving to Laguna Beach, California, where he founded Gotcha, the instantly popular surfwear company known for its flashy designs and aggressive ad campaigns. Years earlier Tomson had received a B.A. in business from the University of Durban, and by 1987 Gotcha's $65 million in surfwear sales was topped only by Ocean Pacific and Hobie; Quiksilver was a distant fourth, at $30 million. From 1990 to 1999, Tomson served as president of the Surf Industry Manufacturers Association.
Ian Cairns
Ian Cairns, born in 1952 in Kew, Victoria, is a former champion surfer who was also influential in establishing the world professional surfing circuit and particularly the World Championship Tour. He was described as "the premier "power" surfer" of his era who dominated the North Shore during the mid to late-seventies". At Laniakea off Oahu, Hawaii, in December 1973, he won the Smirnoff Pro event and other prestigious events in the Duke Kahanamoku Invitational Surfing Championship in 1975 and World Cup events in 1976 and 1980. In 1975 Cairns and fellow Australian Peter Townend devised a rating and scoring system for surfing events. In 1979 he moved to California and with Townend formed the National Scholastic Surfing Association (NSSA). In 1983 he became the first director of the Association of Surfing Professionals (ASP) of which he is a life member. He now lives in California, with his wife Alisa Schwarzstein, his son Jonathon (daughter Amy lives in Australia) and twin sons.
Cairns was inducted into the Western Australian Hall of Champions in 1990, into the Surfing Walk of Fame at Huntington Beach, California, and into the Surfers' Hall of Fame, also in 2010. The Western Australian Surfers' and Waveriders' Association awards the Ian Cairns Award to the Western Australian male surfer of the year.
About Surf Expo
Surf Expo is the global watersports and beach lifestyle tradeshow. Produced in January and September each year, the shows draw buyers from specialty stores, major resorts, cruise lines and beach rental companies from across the U.S., and more than 70 countries. Surf Expo features approximately 2,600 booths of apparel and hard goods and a full line-up of special events, demos, fashion shows, and annual award ceremonies. The show is consistently awarded by the tradeshow industry for growth in attendance, most recently the 2015 shows were named among TSNN's Top 25 Fastest Growing Tradeshow for Attendance. For more information visit surfexpo.com. All shows are open to trade only.