Press Releases
Roy Turner talks with Shop Eat Surf about the upcoming September show.
Posted 02/25/2020


See Full Article>
We all remember what happened last year when Hurricane Dorian forced the cancellation of Surf Expo in September. It made me wonder if Surf Expo explored moving the dates or location of the September show since it falls during hurricane season. So we checked in with Show Director and Emerald SVP Roy Turner to ask him about the storm challenge and to get an update on the upcoming show.
One interesting fact that came up: Brands are signing up for booth space earlier than usual for the upcoming show despite what happened last year.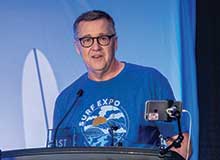 Why did you decide to keep the show in September given the risk of hurricanes?
Roy Turner: We surveyed both our retail attendee and exhibitor base on alternatives for our September show from both a timing and location standpoint after what happened last year. Overwhelmingly both groups agreed that our traditional September date pattern and Orlando location were still their number one choice.
Hurricane season is part of life in the coastal market. Retailers in our industry understand the uncertainty of weather during the June 1 to November 30 storm season, and the potential impact on business. Many retailers themselves have been affected by storms over the years, which makes them a very resilient group.
Retailers told us in resounding numbers that they prefer that Surf Expo takes place after Labor Day because they do not want to leave their businesses during the peak summer retail season.  We're also seeing more and more brands launching summer lines in September and wrapping up spring sales.
In addition, our attendees also told us they still prefer the Orlando location because of the easy access from coastal markets. Orlando continues to be a great partner city, with affordable flights and hotels.  The Orange County Convention Center is also one of the few viable venues that can handle a show the size of Surf Expo.
Did insurance help make brands whole when the show was cancelled last year?
Roy Turner: I think that our insurance products including cancellation and supplemental policies served our customers well. Like any insurance policy, the goal is to minimize loss due to cancellation.  Feedback from our exhibiting customers showed that the majority were pleased with the insurance coverage and post-show delivery of reimbursements.
Are brands starting to commit to the show this September?
Roy Turner: We are seeing strong support from brands early in the sales cycle with most of the major Surf, Bluewater and Wake brands already committed. As a whole, the show is pacing well ahead of 2019.
Are there any special events or new features planned?
Roy Turner: September is our Watersports show and we'll be featuring wake brands and boats alongside other categories. We'll be partnering with Wakeboarding Magazine for a Wake Awards celebration and will of course have our full line up of special events and parties for people to interact, connect and celebrate our industry.
We'll be kicking the show off with Waterfest on September 9th, the day before Surf Expo. Located next to the water near the front of the North Hall of the Orange County Convention Center, the festival is going to be a new way to experience more than 40 of the newest and best brands and products, demo product and interact with the brand teams in a laid-back, fun environment.
A key theme of the event is eco-consciousness and sustainability and we'll be featuring brands and nonprofits who are leading these efforts.
What areas of the show are generating the most growth? Any interesting trends among brands that are coming?
Roy Turner: We have seen an uptick in all of our show's categories, with our new Bluewater and Wellness areas showing strong adoption and continuing to gain traction.
Trends include product offerings centered around sustainability and social responsibility programs. CBD products continue to come into the market, and we are working to provide education for retailers who have questions around how to vet and bring these products to retail.
Any interesting trends among the buyers who came to the January show?
Surf Expo: Retailers came to the January show with pent up demand for product because of the cancellation of the September show.
Warmer temperatures last fall also extended the seasons for many regions, leading to stronger sales. Although holiday sales started at a slower pace, many retailers reported having their strongest sales in years in the days just before Christmas.  Many of our buyers placed larger orders than normal for January, including at-once and spring/summer orders. This included surf shops, water parks and amusement parks, which had a strong year.
Retailers were particularly excited about the products they saw from Reef, Salty Crew, Simbi, XCEL, Faherty and Pura Vida to name a few.  Many of our first-time exhibitors were a big hit, including Outerknown, Brumate, Psycho Tuna, Bogg Bag and Beach Party.
Another common theme we heard from retailers: They really value meeting with top brand executives at the show. Face time with decision makers is still key for retailers.