Press Releases
MERGE4 Releases Jackass Collaboration Socks
Posted 02/04/2022

Santa Cruz-based sock brand, MERGE4, is pleased to announce a collaboration with the international film franchise, Jackass – in conjunction with the release of the Jackass Forever movie, hitting theaters on February 4, 2022.
The Jackass collection includes three brand new sock designs featuring iconic Jackass graphics: 'International', 'Scattered', and Skull' – each constructed with light compression, padded soles, and a seamless toe and heel. And there may be more to come!
"MERGE4's Jackass socks are the only socks you want to be caught in, no matter if you're cheatin', lyin' or kickin' ass haha!" said Jackass star, WeeMan.
"This collaboration with the Jackass franchise is frickin' AWESOME and also a super natural (figuratively and quite literally) collaboration for us with Jason "WeeMan" Acuña being a MERGE4 Board Member and shareholder," said MERGE4 Founder and CEO, Cindi Busenhart, "Jason is a bucket of joy and who wouldn't want to be included with that? The connection really solidifies how we operate as a family – we have our own version of Six Degrees of Kevin Bacon."
The Jackass films – based on the Jackass television show which premiered on MTV in 2000 – feature over-the-top stunts, pranks, and interviews staring Jonny Knoxville, Steve-O, Jason "WeeMan" Acuña, Chris Pontius, Ryan Dunn, Dave England, Ehren McGhehey, and Preston Lacy. Known for their boundary crossing stunts the cast subjects themselves to dangerous and boundary crossing circumstances for the entertainment of themselves and their audiences.
"Happy to never feel the pain those boys go through to get a laugh. And DAMN…they do some crazy shit!" said MERGE4 Board Member and Shareholder Rob Roskopp
The MERGE4 X Jackass socks are now available on www.MERGE4.com and at select retailers.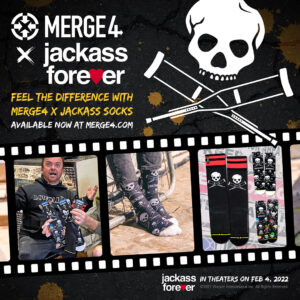 About MERGE4
MERGE4 was built on the foundation of using business as a force for doing good in the world. From the very beginning, we've operated as a Certified B Corporation, making sure we focus just as much effort on people and the planet as we do on profits.  We're proud to say we're more than just a sock company. We empower artists, athletes and musicians through meaningful collaborations. We partner with nonprofits to make socks that benefit causes from endangered species to pediatric transplant patients. And we've built a diverse family of brand ambassadors that share this common vision of merging together for positive change. From the moment you purchase your first pair of MERGE4 socks, you're part of this awesome family and journey towards a more sustainable, inclusive and ethical future. For more information, visit www.merge4.com.
About Jackass
Jackass is a slapstick comedy reality television and film franchise created by Jonny Knoxville, Spike Jonze, and Jeff Tremaine. The television show consisted of 3 seasons and aired on MTV between October 1st, 2000 and February 3rd, 2002. The franchise has released six feature length films including Jackass: The Movie (2002), Jackass Number Two (2006), Jackass 2.5 (2007), Jackass 3D (2010), Jackass 3.5 (2011), and Jackass Presents: Bad Grandpa (2013) along with a multitude of other spin off specials and television shows.
For more information regarding the upcoming Jackass Forever movie visit www.jackassmovie.com