Press Releases
January Surf Expo Show Gains Momentum With New Bluewater Exhibitors
Posted 02/28/2019

ORLANDO, Fla., November 22, 2018 — As the world's largest surf and watersports trade show, Surf Expo is where trends debut, and the upcoming show set for January 10-12, 2019, is no different.
Over the past year, Surf Expo has preached about how the convergence of the surf, watersports, beach and fishing lifestyles is leading to the evolution of an all-encompassing coastal lifestyle. And for the January 2019 show, there is an accelerated momentum surrounding the coastal lifestyle experience, as the show's newest Bluewater category has tripled in size and the list of attending outdoor buyers and retailers has grown as they expand their search for new products.
"I tell you what, this is my first time here at Surf Expo, and it's amazing to me, the crossover that we have in the brands," Capt. C.A. Richardson, professional fishing guide and host of FlatsClass TV, said at the September 2018 show. "If you're a kid on the East Coast surfing, or a kid on the West Coast skating, there is a good chance you're also bass fishing, and you're chasing redfish and tarpon. As far as I can see, there are so many ways that we can tie all of these brands together, and with the new Bluewater section in the show at Surf Expo, we're going to introduce a lot more to the industry."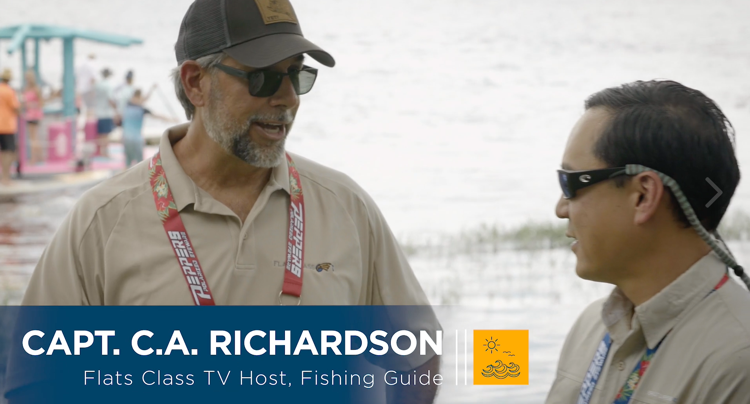 Watch the September 2018 Bluewater show recap HERE.
"It's not just about surf anymore. It's about watersports, it's about boating, it's about everything that has to do with the coastal lifestyle," added Chris Peterson, president of Hell's Bay Boatworks. "Even the most surfboard-oriented shops sell all sorts of products, like hats and different types of gear. That is the way they are going to survive, by offering a broad base of products. There is no other place [like Surf Expo]  where you stand on an equal footing with monster companies."
To help showcase this evolution of consumer interest across the coastal lifestyle, Surf Expo introduced the Bluewater exhibitor category in January 2018 to give a platform to brands that resonate with fishing audiences. The Bluewater category continues to grow, with well-known brands participating, including Salt Life, Heybo, Hell's Bay Boatworks, Bimini Bay, AFTCO, Wave Life, Marsh Wear, 5Fin Clothing, Guy Harvey, Fish Hippie, Flood Tide Co., Hooked Soul, YETI Coolers and many more.
"More and more, we are seeing consumers align themselves as watermen, where they enjoy doing anything on the water, whether it's surfing, fishing or any watersport," said Kenneth Andres, Surf Expo category manager for the SUP, Wake, Wind, Kayak & Canoe, and Bluewater sections. "With this evolution, your traditional surfers and traditional fishermen are discovering new clothing, accessories and gear that fit their lifestyle."
"Most excitingly, our Bluewater exhibitors are taking advantage of the spotlight we have created and are debuting new products at the show in January," added Andres.
Exhibitor Contact:
Kenneth Andres, Surf Expo
kenneth.andres@www.surfexpo.com
(678) 781-7958
Media Contact:
Emily Trogdon, TBA Outdoors
(843) 916-2000 o | (843) 687-0706 c