Press Releases
Board Retailers Association Retailer Roundtables – next stop Surf Expo
Check out the recap video from the first roundtable held recently.
Posted 11/22/2019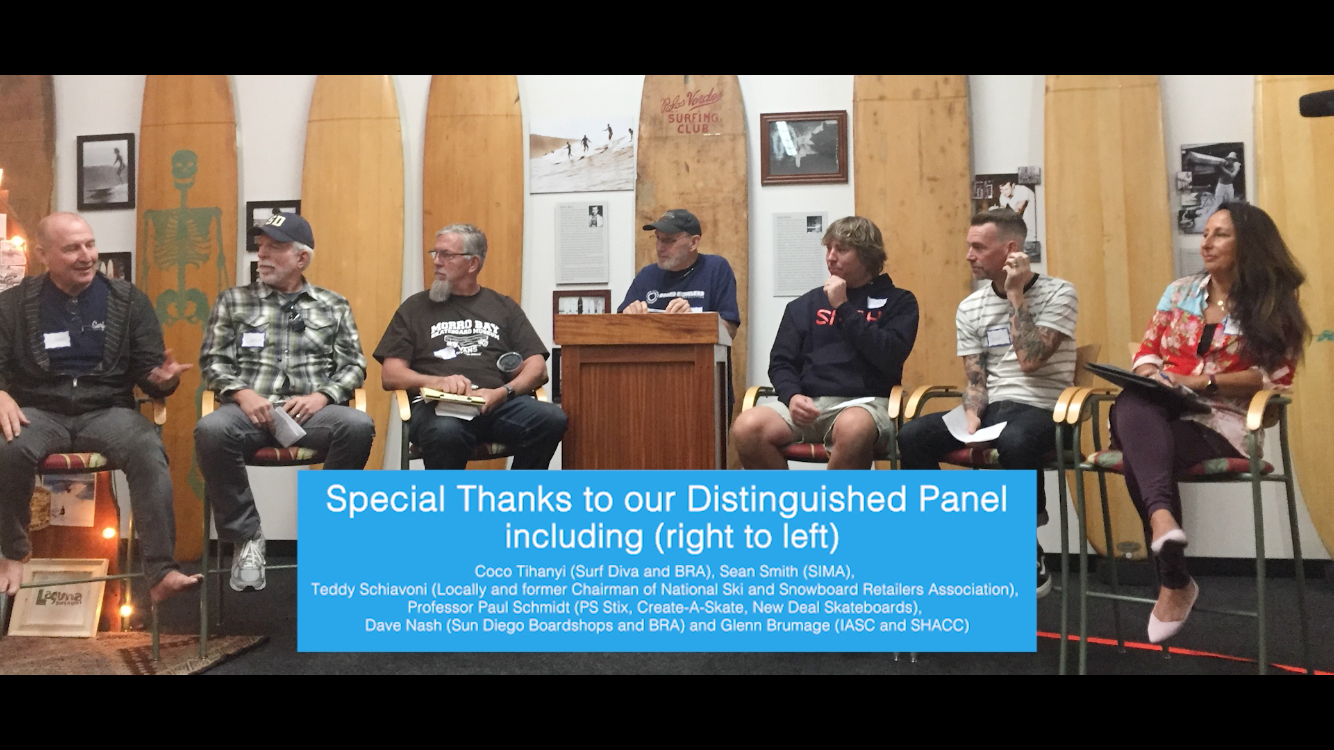 The Board Retailers Association (BRA), a non-profit organization representing independently owned surf, skate, snow, sup and wake retailers, announces the release of the recap video that showcases the recent BRA Regional Retailer Roundtable Event which was held earlier this month at the Surfing Heritage and Culture Center (www.shacc.org) in San Clemente. Noah Schuler of Schuler Films captured, edited and produced this remarkable recap video
BRA would like to sincerely thank Glenn Brumage and the epic staff at Surfing Heritage and Culture Center for hosting the event as well as each of the Supporting Event Partners including Solite Boots, Exchange Collective, Locally, Action Watch and Sambazon.   Board sport specialty retailers from throughout Southern California and beyond as well as board sport related manufacturers and trade organizations participated in this open forum solutions-oriented discussion about the issues and opportunities facing our industry today and in the future.
This event marked the first of many BRA Regional Retailer Roundtables, which will serve as a template for more of these discussions throughout the country (in addition to trade shows) on how the manufacturers and retailers can work together to continue to support the board sports that we are all passionate about.  Southern California is the epicenter of board sport culture and Surfing Heritage and Culture Center served as the ideal location for this initial event.
BRA Chairman, George Leichtweis of Modern Skate & Surf, moderated a panel of key manufacturers reps and BRA retailers / Board members.  The distinguished group of panelists included Coco Tihanyi (Surf Diva and BRA), Sean Smith (SIMA), Teddy Schiavoni (Locally and former Chairman of National Ski and Snowboard Retailers Association), Professor Paul Schmidt (PS Stix, Create-A-Skate, New Deal Skateboards), Dave Nash (Sun Diego Boardshops and BRA) and Glenn Brumage (IASC and SHACC).
The next two BRA Retailer Roundtable Events will happen at Surf Expo on January 9th and at the OR Snow Show in late January.  Visit @boardretailersassociation on Instagram, Board Retailers Association on Facebook or www.boardretailers.org regularly for specific details related to upcoming Retailer Roundtables, educational programs, exclusive offerings, vendor deals and more planned for 2020.
About Board Retailers Association (BRA)
The Board Retailers Association (BRA) is a non-profit national trade association representing board specialty store fronts across the country. The association serves as the preeminent voice for independent retailers on a grassroots level with manufacturers, trade show representatives, and other associations. BRA also works to provide educational resources and exclusive discounts and offerings from vendors on the day-to-day costs of business. To learn more about BRA Regular or Distinguished Retail Membership or Associate Partnership benefits, visit www.boardretailers.org.
About Surfing Heritage and Culture Center
Our mission is to preserve, promote and present surfing's heritage and cultural impact. SHACC houses the world's most important and authoritative archive of surfing artifacts, surfboards, memorabilia, photography, video, periodical and scholarly works. Our collection comes from all corners of the globe and reflects the spirit of exploration and adventure that is core to surfing's ethos. Our educational programs and events focus on bringing surfing's rich history and stories to the world. And through it all we celebrate what it means to be a surfer, and why surfing has captured hearts and minds since the first time someone rode a wave.  For more information, visit www.SHACC.org
About Solite Boots
Solite Innovations LLC was created by life-long cold-water surfers Jamie Meiselman and Tyler Callaway, who both spent their formative years in the Northeast US, where thick wetsuit boots and gloves are a necessity for most of the year.
Meiselman spent much of his career in the snowboarding industry, running the boot division for Burton Snowboards and several other market leading snowboard brands.  Callaway has been in the surf biz for decades, most notably establishing and running FCS Fins/Accessories in the Americas.  Solite is a bi-coastal company, with Callaway based in California, and Meiselman in New Jersey.
Solite wetsuit boots are the result of over 5 years of research, development, and testing in the harshest cold water and tropical lineups around the world.  From mid-winter Maine to low tide G-Land, they have been fortunate to utilize some of the world's best surfers to test and refine their boots and are thrilled to unleash their technology to the masses.
About Exchange Collective
Exchange Collective is a software platform which allows brick and mortar retailers to team up with their brands to provide an online and in-store "endless aisle" retail experience. Founded by retailers Exchange Collective is a three-dimensional solution addressing substantial challenges to improve brand development, retailer revenue, and customer experiences.
Exchange Collective gives retailers a turnkey ecommerce solution to be an authentic online marketplace for brands to showcase all their products through the retailer's website or in-store digital point of purchase.  Letting the retailer sell more and not lose sales due to lack of inventory.  Brands gain more exposure to customers through an authentic retail channel keeping their brand image intact.  This gives the customer selection, service and convenience while shopping with their favorite store!
About Locally.com
Locally.com supports online shoppers by connecting brand websites with retailer stock at the local level. With hundreds of brand clients and thousands of participating retailers activated, brands can now guide shoppers from their websites to the nearest dealer location with the stock on-hand. The Locally Product Locator connects with over 40 different retailer POS systems, manages brand catalog data, and provides a dynamic Store Locator service to ensure information is delivered timely and accurately.  For more information email to:  brands@locally.com
About Action Watch
Action Watch is on a mission to help brands and retailers grow their core specialty business in the surf and skate segment. Over the last 10 years ActionWatch has been a source of reliable, trusted, unbiased third-party data that has been universally accepted as a directional indicator of what transpires in the core channel.
Recently ActionWatch has leveraged its position in the industry to launch its revolutionary Project United initiative, which directly connects brands to retailers' POS information so they can work together to more quickly optimize stock to sales ratios, which leads to increased profits for retailers and brands.
ActionWatch is wholly owned by Sports Marketing Surveys USA.
About Sambazon
Each time you purchase a Sambazon product, you can feel good knowing you are helping the Amazon and its people while nourishing your own body.  Sambazon exists to provide a win-win solution that helps protect the Amazon Rainforest and supports your health and wellness. We care for the people we work with, the planet we live on, and the prosperity of everyone involved. It's a sustainable business philosophy called the Triple-Bottom-Line.