Press Releases
2016 Florida Shape Off at Surf Expo
Posted 12/21/2015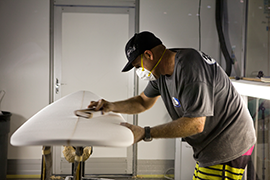 Posted 12/21/2015
The line up of six shapers who will show their skill, live at the Florida Shape Off at Surf Expo, has been announced.
The shape off, now in its ninth year, will honor Hobie Alter and takes place Thursday January 14th and Friday, January 15th.
Roy Turner, Surf Expo's Show Director explained, "The surfboard is the catalyst for why many in our business exist, not to mention the stoke they bring. It is an honor to host some of the best surfboard shapers in the world and allow others to watch these masters at their craft. I hope everyone takes a few minutes to stop and watch as art, design, geometry and master craftsmanship is displayed."
The shape-off's master shapers includes Juan Rodriguez, Sean Slater, Brian Winn, A.J. Finan, Gorkin and Jim Hannan.  Each will compete to replicate an iconic Gary Propper surfboard from a rough blank in two hours.
This year's judging panel includes Al Merrick. The winner, who will take away $1,000 cash and bragging rights, will be announced on Friday at the show.