Katin –

The iconic surf brand surged during the pandemic and is poised for more growth in 2022.
Heritage surf brand Katin is back at Surf Expo, and the timing couldn't be better.
Katin has emerged as a winning brand during the pandemic lifestyle apparel surge.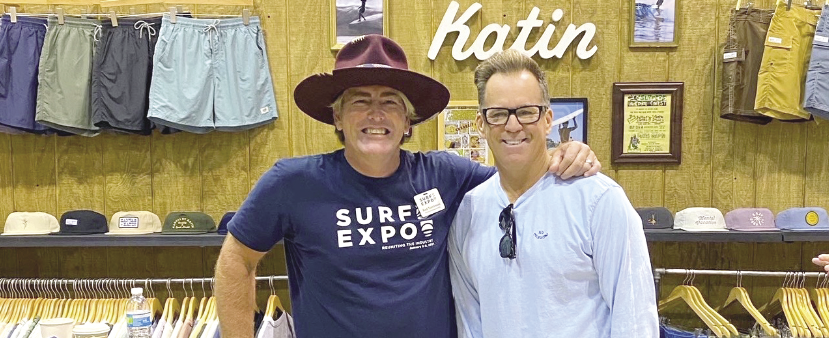 Photo: Surf Expo's Rod Tomlinson and Katin Senior Vice President Dale Rhodes.
Katin Senior Vice President Dale Rhodes said Katin decided early in the pandemic to continue their manufacturing orders, and so they've been positioned to deliver despite bumpy supply chains that have hit across the consumer landscape.
Katin's strengths have grown beyond T-shirts and boardshorts to include an extensive cut-and-sew offering, and some key accounts are doubling orders for '22 and asking for wall units. Total sales for 2021 should grow by up to 40 percent, and that's on top of 20 percent growth in 2020.
Katin's surf roots are deep, dating to 1954, when founders Nancy and Walter Katin opened a small boat cover business in Southern California. Walter soon fashioned custom boardshorts for Corky Carroll, a local teen who grew to become one of the first professional surfers.
As word spread to other young surfers and demand grew, seamstress Sato Hughes came aboard. When Nancy Katin passed away, she left the business to Sato, who remains a co-owner of the business, along with her son, Glenn. They maintained Katin's commitment to, and mantra of, "quality, durability, and good looks."
The Hughes' continue to run the original Katin store in Sunset Beach, Calif. Katin President Mac Beu now owns the brand with the Hughes family, and his family's Oceanaire Sportswear screen printing and fulfillment business helps with operations.
Katin sells in about 500 doors globally, and fits in surf, outdoor, men's boutique, and resort segments.
New initiatives include launching a boy's line that takes-down some of Katin's most popular men's styles.
Katin remains a strong Surf Expo exhibitor.
"We support Surf Expo," Dale said. "Mac has been a firm believer, and it's been his favorite show. It's a show that we will always be committed to. We were even committed during the hurricanes and even COVID."
"At the last September show, it seemed like traffic was down, but we had the appointments coming in so people were showing up and we saw quite a few new accounts as well. It was a great show."
"So we always suit up and show up at Surf Expo, and they've been good to us," Dale continued. "They definitely bring the best accounts to the shows, so we're grateful to them."