Industry News
WATERMAN'S RETURNS FOR 33rd ANNUAL EVENT RAISING FUNDS TO PROTECT OCEANS AND SURF BREAKS
Posted 07/07/2022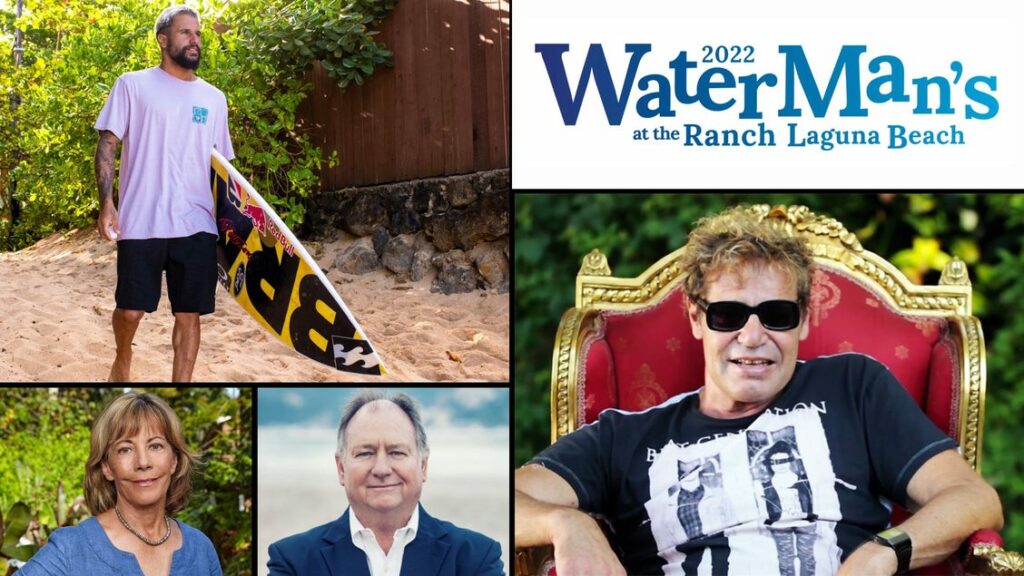 WATERMAN'S RETURNS FOR 33rd ANNUAL EVENT RAISING FUNDS TO PROTECT OCEANS AND SURF BREAKS
Gala at The Ranch in Laguna Beach on Saturday, August 13, 2022, Will Honor Michael Tomson, Italo Ferreira, Anne Earhart, and Beto Bedolfe
HUNTINGTON BEACH, Calif. (May 23, 2022) — The surf industry's most-anticipated annual social event, the 33rd Annual Waterman's Ball, will be held at The Ranch in Laguna Beach, California, on Saturday, August 13. This year's gala returns to the idyllic setting as 200 of the surf industry's leading executives, local business leaders, and surf enthusiasts gather under the stars for an amazing night raising money for some of the most impactful environmental organizations working to protect our oceans, beaches, and waves.
Since 1989, Waterman's has raised more than $9 million to support beneficiaries that are dedicated to protecting our oceans, surf breaks, fighting plastic pollution, and more on behalf of surfers.
This year marks the 33rd year of the Waterman's Ball. Over that time, the industry has come together each year to celebrate our oceans with this premier social fundraising event on the global calendar. Through the years, at this event, the industry has honored most of the leading characters in surfing, as well as many of the key figures in ocean-related environmentalism.
"Without a healthy ocean, there are no healthy people, planet, or profits to be had, and this year's Waterman's marks another incredible milestone celebrating the heroes of our industry – both the individuals and our environmental beneficiaries," said Vipe Desai, Executive Director of the Surf Industry Members Association. "The business of protecting our playgrounds and preserving our livelihoods is a year-round eff. On this special evening, the industry comes together to celebrate our honorees in style and together, united under one vision – healthy oceans, healthy industry."
This year's gala features a whole evening of activities, including honoring the late Michael Tomson with the Lifetime Achievement Award, Italo Ferreira as Waterperson of the Year, and Anne Earhart and Beto Bedolfe as Environmentalists of the Year. In addition to paying tribute to this year's amazing honorees, the evening will feature a live and silent auction, gourmet food, and lively socializing.
Michael Tomson | Lifetime Achievement Award
Michael Tomson was the co-founder of Gotcha and a former professional surfer. He was one of the most creative marketers and designers in the industry who, along with partner Joel Cooper, started Gotcha out of a house in Laguna Beach in 1978, using the garage as a warehouse. Michael handled design and marketing. Joel ran the business side of things.
Gotcha went from zero to $120 million in sales in just seven years, pioneering numerous apparel designs in the surf industry, including long walk shorts, denim jeans and jackets, and more. With bold graphics and creative images, the brand pushed past the typical surf advertising look at the time. It used aggressive advertising campaigns, using the catchphrase "If You Don't Surf, Don't Start."
In addition to setting trends and styles within the industry, the company also employed some of the industry's top executives, including Mark Price, Paul Naude, Shaheen Sadeghi, Kelly Gibson, and Nick Bower.
As Gotcha soared, Michael then made another surf brand called More Core Division, or MCD, and assembled one of the greatest surf teams ever, with a who's who of the late 80s signing up. Adding to his list of accomplishments, Michael was a founding member of SIMA and served as SIMA president for several years in the 1990s.
Tomson was born in 1954 in Durban, South Africa, and passed away on October 7, 2021, after a long battle with throat cancer.
"Michael Tomson was a creative genius who in the 80s single-handedly changed surf style forever. He created a product and marketing philosophy that set the standard for the industry that is still very relevant today," said Paul Naude, SIMA President, and Vissla CEO. "His creative juice followed what had already been a groundbreaking approach in surfing in Hawaii and around the world – and he wasn't a half-bad journalist in his spare time as well."
Italo Ferreira | Waterperson of the Year
Italo Ferreira was born in the small coastal town in the far north of Brazil, Baia Formosa. The son of a fisherman and innkeeper, Italo has competed on the WSL World tour since 2015, where he won Rookie of the Year after finishing 7th overall that year.
He won the World Championship and ISA World Surfing Games in 2019 and added a Gold Medal at the 2020 Tokyo Olympics.
He's one of the most explosive surfers on tour, known for his high-energy approach and high-flying aerials. His win over Gabriel Medina during the Pipe Masters Final in 2019 is considered one of the sport's greatest-ever finishes.
Ferreira learned to surf on a three-foot-long lid of an insulated cooler his father used to transport fish to sell to restaurants in Baia Formosa. After moving on to a real surfboard, Italo's early progress was first noticed and nurtured by Jadson Andre and the celebrated scout and coach Luiz "Pinga" Campos.
"SIMA is thrilled to honor the first men's Olympic gold medalist, Italo Ferreira, as Waterperson of the Year," said Naude. "Italo's surfing flamboyance and innovation, total stoke, and friendly disposition has made him one of the most popular professional surfers globally."
Anne Earhart | Environmentalist of the Year
SIMA's 2022 Environmentalists of the Year are incredible individuals in their own right but together have become powerful advocates for protecting the ocean.
As the founder of Marisla Foundation, Anne Earhart and Executive Director of the foundation, Beto Bedolfe, have both served as champions of SIMA.
The ocean played an integral role in shaping the trajectory of Anne Earhart's life. She spent her childhood visiting So Cal beaches and exploring the coast. Then, on a trip to Baja, California, she experienced a life-changing encounter with friendly gray whales. The breathtaking display planted the seeds for Anne's life's calling and indelibly marked the beginning of her journey to environmental philanthropy.
Her commitment to environmental causes gradually shaped the Marisla Foundation into a conservation powerhouse. Today, it provides substantial and consistent funding to more than 600 nonprofits, the majority with missions focused on addressing global environmental challenges.
Reflecting Anne's lifelong love of the ocean, Marisla has emerged as a particularly effective leader in marine conservation, working strategically to strengthen biodiversity and ecosystems and mitigate pollution and overfishing impacts.
Every year, Marisla Foundation supports more than 150 organizations working to protect healthy coasts and oceans. Through her efforts, she is helping to preserve beach access and stop water pollution and development impacts at some of the world's most epic surf spots, including in Mexico, Chile, Hawaii, and, of course, in her home state of California.
Because saving the world's oceans is too monumental an undertaking for a single foundation, Marisla has forged dynamic partnerships with other foundations committed to that cause.
Together with partners, Marisla created Oceana, the first major nonprofit committed to the restoration and protection of the world's oceans. Thus far, Ms. Earhart's philanthropy has helped preserve 4.5 million square miles (and counting) of the ocean.
This extraordinary range of accomplishments places Anne Earhart prominently within the ranks of today's great conservationists. And to this day, she finds her greatest joy in a simple day at the beach with her family and grandson, six-year-old Finn.
Beto Bedolfe | Co-Environmentalist of the Year
Herbert "Beto" Bedolfe is the Executive Director of the Marisla Foundation, where he has focused on international marine conservation, biodiversity protection, and environmental health and justice issues since 1992.
Beto grew up in El Segundo, California, where he surfed and rode surf mats at El Porto. This connection to the ocean was a strong driver in him pursuing a life devoted to conservation and people. Beto attended Swarthmore College, a small liberal arts college in Pennsylvania, which taught the fundamental values of social responsibility and conservation of resources. These instilled values led him to the path of Peace Corps, where he served as a volunteer in Paraguay for three years and met his future partner in philanthropy, Anne Earhart.
His interests in social and environmental development were broadened while working for the U.S. Agency for International Development and World Bank in the Cape Verde Islands, São Tomé-Principe, Guinea-Bissau, and Mozambique. During these years, Beto completed his MBA at California Lutheran University.
After spending a number of years living and working in Africa, Beto headed back home to California, taking on the role of the newly created Marisla Foundation.
During his nearly three decades as Marisla's Executive Director, Beto has worked deeply in protecting our planet's oceans and coasts. He has chaired the board of both Oceana and Oceans 5 and served on the board of SIMA's Environmental Fund, lending his expertise and guidance in helping to fund outstanding ocean conservation organizations. Some of his most satisfying work has involved ocean and coastal conservation and protecting important surf spots.
Beto continues to be an avid surfer and enjoys a good dawn patrol and Baja surf safari with his buddies.
"Anne and Beto are incredible stewards of the environment," added Naude. "They have mentored and supported so many, and their invaluable, tireless commitment literally makes a difference daily to all Ocean lovers. We are thrilled to honor them as our 2022 Environmentalists of the Year."
Waterman's is honored to welcome back once again our major sponsors: Audi, The Ranch at Laguna Beach, and Surf Expo.
Waterman's benefits the SIMA Environmental Fund, a 501(c)(3) charitable foundation that awards grants to various environmental groups based on their dedication to preserving and protecting the world's oceans, beaches, and waves. This year, the gala is expected to raise $250,000 for more than a dozen ocean conservation groups.
For more information, please contact Melinda Simpson at melinda@surfindustry.org
About Surf Industry Members Association and Waterman's Gala
Working together, the surf industry and its members are united to support the growth of the surf industry through fearless innovation, stoke, and sustainability.
Since 1989, Waterman's has raised more than $9 million to support the SIMA Environmental Fund, the environmental arm of the Surf Industry Members Association, by raising funds through fundraisers. The SIMA Environmental Fund uses these funds to support ecological and environmental organizations whose efforts are focused on enhancing the ocean and beach environment through clean water initiatives, surf preservation/access, and ocean conservation education.