Industry News
The 28th Annual Waterman's Weekend Dates Set & Honorees Announced
SIMA to Honor Bethany Hamilton, Cyrill Gutsch, Herbie Fletcher and International Surfing Association
Posted 06/07/2017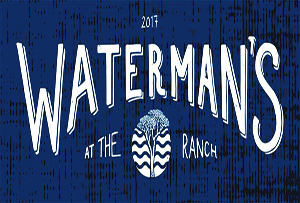 LAGUNA NIGUEL, Calif. (June 7, 2017) — The Surf Industry Manufacturers Association (SIMA) will honor inspirational professional surfer Bethany Hamilton as Waterman of the Year; Parley For The Oceans founder Cyrill Gutsch as Environmentalist of the Year; and all- around surf industry legend Herbie Fletcher with the Lifetime Achievement Award. A Special Recognition Award will also be presented to the International Surfing Association (ISA), the world governing body for surfing, for its unwavering and successful efforts in getting surfing included in the Tokyo 2020 Summer Olympic Games.

The 28th Annual Waterman's Weekend will be held August 4-5, 2017, at the recently remodeled The Ranch at Laguna Beach in Laguna Beach, Calif. This year the entire event will be held at The Ranch with the Waterman's Golf Tournament moving to Ben Brown's Golf Course. The tournament will take place on Friday, August 4 and feature a 3-club and barefoot format that is sure to complement the relaxed and intimate setting at the course. On Saturday, August 5 the industry will again gather under the stars at The Ranch for the Waterman's Gathering to celebrate this year's honorees, raise money through silent and live auctions and enjoy a farm-to-table meal with friends.

Bethany Hamilton is known around the world as the inspirational pro surfer whose determination, heart, and skills brought her back to competitive surfing after a shark attack in 2003. She will be honored as the 2017 Waterman of the Year. Born and raised in Hawaii, Hamilton grew up surfing, and after a shark attack left her without her left arm, she overcame the odds to return to surfing at the highest level. And Hamilton's story has reached far beyond the surf community. Following the release of her auto biography Soul Surfer: A True Story of Faith, Family, and Fighting to Get Back on the Board (2009), and later with the release of the feature film Soul Surfer (2011) she inspired millions with her story. Hamilton continues to be an inspiration through her pro surfing and big wave accomplishments, and as an author, wife, and mother.

"There are so many words that come to mind when you think of Bethany Hamilton – grit, determination, faith, and inspiration are just a few," said SIMA President and Rip Curl CEO Kelly Gibson. "And while those words are all fitting, Bethany is so much more than that to the surf industry because there are very few who epitomize what it means to be surfer like she does. Bethany continues to be a role model for surfers everywhere and we are excited to honor her as this year's Waterman of the Year."

SIMA's 2017 Environmentalist of the Year is German-born Cyrill Gutsch who is a designer and creative entrepreneur based in New York City. At first glance, not what one would expect in an ocean environmentalist honoree, but a life-changing meeting with Captain Paul Watson of the Sea Shepherd Conservation Society inspired Gutsch to commit his life to protecting the world's oceans back in 2012. That meeting was the catalyst for founding Parley For The Oceans, a non-profit network that seeks to facilitate collaboration across the fields of business, government, activism, art and science – with the ultimate objective of conserving the earth's oceans. Gutsch has worked tirelessly in connecting many walks of life, people, cultures and businesses in order to create change, from pro surfers Greg Long and Ramon Navarro to Hollywood star Chris Hemsworth to companies such as adidas and Corona. Gutsch is committed to doing whatever it takes to ensure the health of the earth's oceans.

"While he may not be widely known in the surf world yet, I can tell you that Cyrill is without question someone who is a friend of surfers around the world," said Paul Naude, SIMA Environmental Fund President and CEO of Vissla. "Simply put, Cyrill is an agent of change, and his work to create a forum and network of others who want to protect our oceans is what the world needs right now. And the surf industry needs it more than ever. We couldn't be happier to award Cyrill with the Environmentalist of the Year award."

It's nearly impossible to put a label on Herbie Fletcher, something he's not a fan of anyway. He's always done things his own way – from surfing, to business, to filmmaking, to art, to family. Herbie has done it all and continues to push the envelope which is why he's being honored with this year's SIMA Lifetime Achievement Award. A Southern California native Fletcher has continued to re-invent himself and the industry since he began surfing in 1948. In 1976 Fletcher created the revolutionary peel-and-stick Astrodeck, and went on to become an icon of self-promotion. In fact, his first foray into film in 1985 (Wave Warriors) was a self-made promotional movie for Astrodeck, and was followed by with four successful sequels. Fletcher was not only behind the camera, but also starred in several surf films in the 70s and 80s.

As the patriarch of the famous Fletcher clan (wife Dibi, sons Christian and Nathan and grandsons Greyson, Lazer and Jetson), Herbie remains as integrated in the industry as ever. His most recent projects include a RVCA + Astrodeck collaboration, and creating fine art pieces from broken surfboards.

"Where do you start with Herbie? Family man, surfer, innovator, artist, businessman and rebel all rolled into one," said Naude. "Herbie has always followed his own path and never worried about what was popular or what people thought. And he carries that same mantra today. The entire Fletcher family has brought so much creativity and personality to the surf world. Surfing needs more people like Herbie who aren't afraid to stand apart and take risks."

In August 2016, the announcement was made to the world that surfing would be included in the Olympic Games after decades of hard work and dedication from the ISA. SIMA will honor the work of the ISA with the 2017 Special Recognition Award as the surfing community prepares itself for its debut at the Tokyo 2020 Summer Olympic Games. The award will be presented to ISA President Fernando Aguerre who has tirelessly spearheaded ISA's Olympic Surfing movement, a vision first pioneered by Duke Kahanamoku who is widely regarded as the "father of modern surfing" and was a five-time Olympic medalist in swimming.

"Having surfing included in the Olympics is a game-changing moment for the sport, culture and lifestyle," said Naude. "The Tokyo 2020 Games will give surfing a global platform and allow the world to see not only the incredible athletic performance of the sport, but also our amazing culture, values, style and passion."

The two-day fundraising event benefits the SIMA Environmental Fund, a 501(c)(3) charitable foundation that awards grants to various environmental groups based on their dedication to preserving and protecting the world's oceans, beaches and waves. Waterman's Ball attracts more than 600 people annually and is expected to raise close to $400,000 for 19 ocean conservation groups this year. A list of the 2017 Waterman's Weekend environmental beneficiaries can be found at https://sima.com/watermans-weekend-beneficiaries.

Sponsorship packages for the 2017 Waterman's Golf Tournament and Waterman's are on sale now here. Individual tickets for Waterman's are scheduled to go on sale in late-June. For more information or to reserve a sponsorship package, please contact Shannon Park Zseleczky, SIMA Managing Director, by calling (949) 366-1164 x 5 or by e-mailing shannon@sima.com.

About SIMA
The Surf Industry Manufacturers Association (SIMA) is the official working trade association of more than 300 surf industry suppliers. Founded in 1989, SIMA is a non-profit organization that serves to promote awareness of the surf industry and participation in the sport of surfing through public relations efforts and a variety of services, educational programs and research. In addition, SIMA actively supports oceanic environmental efforts through its 501(c)(3) charitable environmental foundation, the SIMA Environmental Fund. In the past 27 years, SIMA's Environmental Fund has raised more than $7 million for environmental groups seeking to protect the world's oceans, beaches and waves. The SIMA Humanitarian Fund, also a 501(c)(3) charitable foundation, was established to award grants to various surf or boardsport related social and humanitarian non-profit organizations whose efforts are focused on improving the quality of life, health and/or welfare of people. Since 2004 the SIMA Humanitarian Fund has raised and donated more than $1.7 million to surf-related non-profit humanitarian organizations. For more information regarding SIMA, please visit www.sima.com.