Industry News
The 2021 Life Jacket Loaner Program Grant Application is Open
Posted 11/20/2020

For anyone who is passionate about boating and saving lives through life jacket use, you can apply to host a loaner station, or restock an existing one, right now!
As part of a grant administered through the U.S. Coast Guard's Sport Fish Restoration & Boating Trust Fund, the Sea Tow Foundation receives funding to work with organizations, agencies and businesses throughout the U.S. to add new Life Jacket Loaner Stations and restock hundreds of existing stations for the 2021 boating season.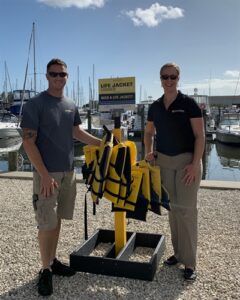 Applications can be found on our website at www.BoatingSafety.com/LifeJacketGrant. Applications will be accepted from November 1, 2020 until February 1, 2021.
Since 2008, the Sea Tow Foundation has distributed more than 65,000 life jackets to local businesses, agencies and organizations across the country. Presently, there are over 750 Sea Tow Foundation Life Jacket Loaner Stations nationwide and all of them carry life jackets ranging in age from infant through adult, ensuring that sizes are available for anyone needing to borrow one. The goal in the 2021 boating season is to add at least 50 new life jacket loaner stations and restock hundreds of others with Onyx brand yellow life jackets in all sizes to keep boaters of all ages and sizes safe on the water!