Industry News
T&C Surf Celebrates 50 Years in Business
Posted 05/07/2021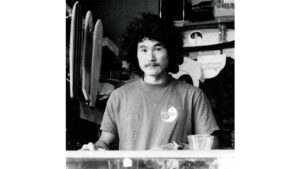 By Tiffany Montgomery | Published May 7, 2021 – Hawaii-based T&C Surf celebrates 50 years in business this year. It's one of the few industry brands with that kind of longevity that has remained both independently owned and authentic.
See full article on Shop-Eat-Surf>
Founder Craig Sugihara did not have grand ambitions when he started. He just wanted to build boards.
"There was no grand plan," he told SES in an interview. "Being young and dumb I just started. I was glassing boards for Greg Noll's shop. The next step was I learned to shape at Mystic Surf Shop. After that, I felt like wow, I can do this. My dream was to do it on my own – to build quality surfboards, and that hasn't changed."
"My dream became a reality in 1971 when the barbershop where I got my hair cut was moving, and the guy who cut my hair said you should rent it out."
"I begged the lady who owned it to rent it to me, and off I went.  I didn't know anything about business, I just went for it. I knew how to build boards, I figured I would be able to sell them."
"But my starting capital of $2,000 went very quickly. All of a sudden it was survival."
Craig's big break actually came from skateboarding. Team rider Larry Bertlemann brought back a skateboard with some of the first urethane wheels from a trip to California, and had Craig try it out. Craig ended up bringing those skateboards into Hawaii and was one of the first in the state to carry them.
"The new skateboard revolution was just starting and the money from selling skateboards helped me open my second store and surfboard factory," Craig said.
Darren Ho and T&C's local skate crew connected Craig to California skateboarders like Tony Alva and Jay Adams, who Craig would hook up with surfboards when they came to Hawaii. They in turn would put T&C stickers on their skateboards.
"I never made a surf magazine cover, but I made a skate one with Dennis Martinez on the cover," Craig said.
One of the keys to the success and longevity of T&C is balance. The company has three main arms – surfboards, retail and international licensing. Those three divisions provide diversified revenue streams.
Longtime T&C executive Adam Borrello said Craig also has his own balanced outlook that serves him well.
"I think Craig has the internal sense of balance both in his surfing and in business," Adam said. "He's not a Harvard MBA, or some private equity guy. He manages from his passion and heart and internal instinct for balance. He's very measured and purposeful."
That balance has also kept Craig and his wife, Linda, from overexpanding or taking on too much risk.
Linda played a key role in building the retail operation because she previously worked in the retail industry and understood merchandising. That really helped T&C succeed, Craig said.
"That benefitted us so much especially when we went into the mall," Craig said. "We were dealing with a lot of customers and she had a good eye for it," he said. "I was doing the international business and selling surfboards so she carried the torch on the retail end."
Expanding internationally also turned out to be a key pillar of T&C's strength. T&C granted its first licensing agreement to a company in Japan, which was followed by other countries.
"That really worked out well for us – to get funding outside of Hawaii," Craig said. "It gave us extra capital to expand our retail and spend on athletes. We spent a lot of money on pros – sometimes they made more than us."
Currently, T&C has licensing agreements in Japan, Australasia, Brazil and Europe.
T&C has sponsored many high profile surfers over the years including Dane Kealoha, Martin Potter, Marvin Foster, Andy and Bruce Irons, Christian Fletcher, Sunny Garcia, Freddy Patacchia, Jamie O'Brien and Billy Kemper.
From the outside looking in, it appears that Craig and Linda have run the business all these years with a fairly conservative approach, and I mean that as a high compliment. They are one of the few brands that haven't had to sell under duress or take on outside investors because they overexpanded.
Rather than conservative, Adam describes their business philosophy as disciplined. "Our GM Glenn Hirata, under Craig and Linda's guidance, runs a very disciplined retail operation and overall business," he said.
An example of T&C's disciplined approach is illustrated by their decision to exit Waikiki because of high rents. Those rents make it very difficult to make a profit unless you are a vertical brand.
In a way, that turned out to benefit T&C during COVID because its six stores are more focused on locals rather than tourists and the local economy was still functioning during the pandemic.
Craig said he and Linda were always careful because of the overwhelming sense of responsibility they felt toward employees.
"Yes, it's conservative but also being responsible for that many employees, you want to make responsible decisions so everyone still has a job. Everybody becomes your family. It drains you mentally and emotionally."
"When COVID happened, we were like, 'Oh my God, how many people do we have to lay off? They all have kids and families.' Thankfully, the PPP helped us keep our workers working. And then we became very fortunate because people wanted to go to the beach more and to surf more, so that really helped."
T&C was able to keep its full time staff intact, and even paid them during the lockdowns.
"We invest in people," Craig said. "We can't do everything ourselves. You have to trust your people and take care of them and they will take care of you."
T&C did have to eliminate some part time jobs during the COVID crisis, however.
As far as selling, Craig and Linda were always too busy to think about that.
"We were almost too focused on running the business to worry about selling out," Craig said. "We were always stoked to see how much passion the staff had and wanted to keep doing what we were doing."
After 50 years in business, Craig and Linda do not go into the office every day now. Their son, Ryan, has been working for the company for about 20 years, and has done everything from running the surfboard factory to spearheading marketing collaborations with local influencers, retail buying and much more.
"I'm stoked Ryan is ready and willing to take the reins in the future," Craig said. "It's all about his experience and working in every part of the company. You have to know every part and experience all the ups and downs. It's not easy."
Ryan is very bullish about the industry's future given how surfing, skateboarding and the beach have become more popular than ever during the pandemic.
"I learned from my parents and their work ethic," Ryan said. "For 50 years, it's been their baby. As much as my Dad wants to let it go they still want to hold on. I'm being patient. I'm going to be 43, when they are ready, I am ready. I'd love to be a part of making it another 50 years."