Show News
Surf Expo welcomes Surf Park Summit 2 in September
Industry-focused event will be held at Surf Expo this summer to discuss the new culture of surfing away from the ocean.
Posted 07/21/2016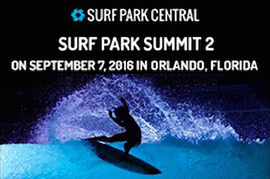 San Juan Capistrano, CA – March 24, 2016 – Surf Expo is pleased to announce the co-location of Surf Park Summit 2 with Surf Expo's September 2016 show. Surf Park Summit is the largest industry conference designed for surf park entrepreneurs, investors, developers and suppliers to accelerate the growth of surfing outside the ocean. The conference will take place on Wednesday, September 7, 2016 at the Orange County Convention Center.
"Surf Expo is excited to host Surf Park Summit at this summer's show. As the marketplace for global water sports, we see future development of wave and wake parks as a way to expand participation of two of our key market verticals. We welcome the technology, finance and business leaders in the wave park category as we look to support the growth of surf, beyond its traditional boundaries," said Surf Expo VP and Show Director Roy Turner.
With the new era of artificial waves saturating the globe, Surf Park Summit 2 will gather the industry's top influencers to discuss the opportunities and challenges related to the development of man-made surf destinations. The summit's vision is to build authentic, sustainable and profitable surf experiences to grow the surf industry and provide the mental, physical and emotional stoke of surfing to those who don't have access to the ocean.
Surf Park Summit was founded by Surf Park Central in 2013. John Luff, President of Surf Park Central added, "When our team sat down and discussed potential venues for Surf Park Summit 2, the clear winner was Surf Expo. As the world's leading board sports and beach lifestyle trade show, we see Surf Expo as the perfect venue to host our global event focused on taking surfing and the beach culture beyond the coasts."
Surf Park Summit 2 features will include a wave technology panel with the industry's top companies and experts showcasing the latest breakthroughs of the industry, presentations by key industry executives, governing bodies of competitive surfing & SUP, and surf pool operators, in addition to finance and funding solutions and opportunities for surf park and surf pool centric real estate developments. Those interested in attending Surf Park Summit 2 can request an invitation at https://surfparkcentral.com/SurfParkSummit2/ .
##
About Surf Expo
Surf Expo is the global watersports and beach lifestyle tradeshow. Produced in January and September each year in Orlando, Florida, the shows draw buyers from specialty stores, major resorts, cruise lines and beach rental companies from across the U.S., and more than 70 countries. Surf Expo features approximately, 2,500 booths of apparel and hard goods and a full line-up of special events, demos, fashion shows, and annual award ceremonies. The show is consistently awarded by the tradeshow industry, most recently the September 2015 show was named Fastest 50 for growth in exhibitors by Trade Show Executive, and  named to the Top 25 Fastest Growing Tradeshow list for growth in attendance and among the Top 250 Tradeshows, by TSNN. For more information visit surfexpo.com. All shows are open to trade only. The next Surf Expo is September 8-10, 2016 with Board Demo Day on September 7.
About Surf Park Central
The first Surf Park Summit was held in Laguna Beach, CA in September of 2013 with over 300 attendees from 30+ countries including 3 world surfing champions and a range of great speakers. Co-Founded by Dr. Jess Ponting of SDSU's Center for Surf Research and John Luff of Surf Park Central, the event attracted global media attention including Yahoo! News, NBC, Forbes, ESPN, USA Today and the Associated Press. Over 100 combined TV, digital and print publications covered the event.