Show News
Surf Expo to Launch New Bluewater Category at January Show!
Posted 12/05/2017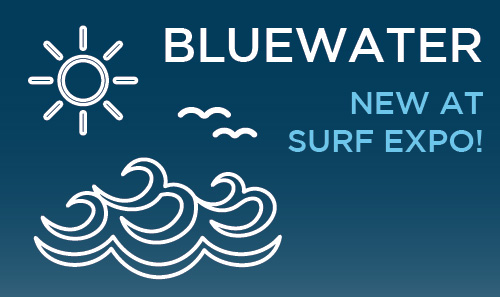 Bluewater will make its debut at the January 2018 Surf Expo.  Catering to inshore and offshore apparel and accessory companies, the new section will be anchored by veteran Surf Expo exhibitors Salt Life, Bimini Bay and Yeti. View full press release.
Inspired by like-minded watersports brands, Bluewater connects to the waterman lifestyle that has always been a part of Surf Expo's DNA, and is a perfect complement to Surf Expo's existing floor categories.
The buyer-focused grouping of brands will feature inshore and offshore apparel and accessory products ranging from lifestyle and technical apparel to footwear, outerwear, sportswear, t-shirts, sunglasses, outdoor apparel and much more.
Bluewater will be centrally located on Surf Expo's show floor bordered by the Paddle, Surf and Resort categories offering crossover opportunities for buyers and sellers alike.
Exhibiting brands include:
Bimini Bay Outfitters
Finco Sportfishing Gear
Hell's Bay Boatworks
Heybo Outdoors
Main Street Hub
Outdoor Insurance Group
Rheos Floating Sunglasses
Salt Life
Scalesgear
Trident Watersports Accessories
Unsinkable Polarized
Waters Bluff Clothing Company
Yeti
and more!
TO EXHIBIT
For information about Exhibiting
in Bluewater at Surf Expo contact:
Kenneth Andres
Category Manager – Paddle, Bluewater
678-781-7958
kenneth.andres@www.surfexpo.com