Industry News
Surf Expo to Launch Bluewater Category at January 25-27, 2018
Posted 12/04/2017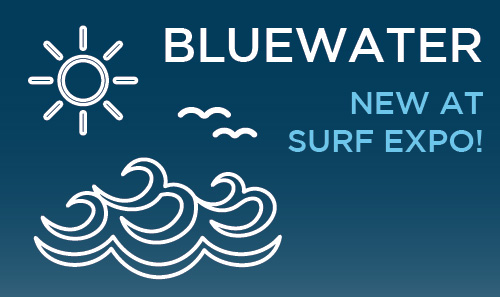 SAN JUAN CAPISTRANO, CA – December 5, 2017 – Surf Expo announced today the debut of their newest show category, Bluewater at the upcoming Surf Expo in January 25-27, 2018. Bluewater will cater to inshore and offshore apparel and accessory companies and will be anchored by legacy exhibiting companies Salt Life, Bimini Bay, and Yeti.
Larry Laska, Salt Life's Director of Marketing said, "We are excited to return to Surf Expo and to be in the new Bluewater section. Bluewater is the ultimate destination for those who 'live the Salt Life' to see the latest innovations in saltwater apparel and gear."
Inspired by like-minded watersports brands, the Bluewater section connects to the waterman lifestyle that has always been a part of Surf Expo's DNA.
Featured products will range from performance and lifestyle apparel, accessories, outerwear, footwear, sportswear, t-shirts, sunglasses and much more.  The new section will have a Bluewater lounge and will feature a flats skiff by Hell's Bay Boatworks.
Show director Roy Turner notes, "For years Surf Expo has been a top trade event for brands rooted in the inshore and offshore apparel market including AFTCO, Sperry, Columbia, Avid, Pelagic and Mojo. Recent show trends have seen a new group of brands and retailers emerge, especially in performance apparel. Creating this standalone category will address the growing market needs and provide our retail buyers with more opportunity. Bluewater is a perfect complement to our show's existing sections."
Greg Hall, Owner of Island Outfitters New England added, "At the show we start in a key section, write orders, then walk to find complementary products. Surf Expo has always put an emphasis on making the show floor easy for buyers to navigate by grouping similar products together. Bluewater will be a perfect addition for us and other "outfitter" type retailers."
Bluewater will be centrally located on Surf Expo's show floor bordered by the Paddle, Surf and Resort categories offering crossover opportunities for buyers and sellers alike.
For more information contact Kenneth Andres, Category Manager. Kenneth.Andres@www.surfexpo.com.