Show News
SURF EXPO SEPTEMBER SHOWCASES STRONG DEMAND FOR WATERSPORTS & BEACH LIFESTYLE PRODUCTS HEADING INTO 2024
Posted 09/19/2023 | By: Media Contact: Amy Dufour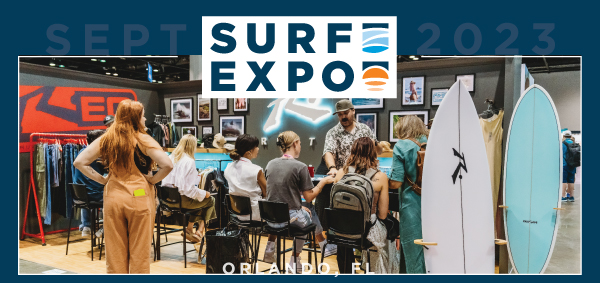 Orlando, Fla. (September 19, 2023) – Surf Expo, the premier watersports and coastal lifestyle tradeshow wrapped up its summer show at the Orange County Convention Center in Orlando. With more than 730 exhibiting brands participating, the event served as the industry launchpad for retailers to discover new and innovative product lines breaking for summer 2024 and beyond.
"Our summer show was a resounding success with solid attendance from both buyers and exhibitors," says Roy Turner, Emerald Senior Vice President and Surf Expo Show Director. "Our pre-registration numbers were up from last year with onsite attendance in line with 2022. The show floor was steady with activity from qualified buyers. Buyers were eager to see the latest products and trends, and exhibitors were happy to connect with customers."
Surf Expo continues to evolve its product assortment spanning from surfboards and wetsuits to paddleboards and kayaks. There were also exhibits on surf apparel, swimwear, footwear, coastal gifts, beachwear, gifts and accessories, as well as technical apparel, gear and accessories extending into fishing, camping and hiking.
The summer marketplace facilitated an opportunity for the watersports and beach lifestyle industry to come together and network. The show continues to be a driving platform for buyers and brands to connect in person, create exclusive collaborations and collections, learn about new products and trends and do business.
"I continue to come to Surf Expo because there are always so many brands to see," says Laurel Jones, owner, Swimwear Solutions, Kansas City, MO.  "I appreciate being able to discover new brands and experiment with new styles."
"Surf Expo reminds us why we love what we do, and that the outdoor/surf industry is one of the best in the world," says Reese O'Toole, founder, Joycoast. "I authentically enjoy networking and showcasing our sustainable product designs to our retail partners here, and it is always a blast!"
"When I tell you the show could not have been any better, I'm not kidding," adds Laci Hewett, CEO, Saltwater Boys Company. "We connected with some industry giants that we look forward to collaborating with on future projects and we also wrote orders with luxury resorts and boutiques that we only dreamed we could grace their doors."
To add to the excitement on the show floor, Surf Expo announced its inaugural Surf Expo Awards, a new awards program to honor product excellence in the watersports and coastal lifestyle industries.
"There are so many brands creating great products in our industry, we wanted to celebrate and recognize their achievements," adds Turner.
Brands will have until November 17 to submit nominations. Winners will be selected by a judging panel consisting of experienced industry executives and the Surf Expo staff. Finalists will be announced Dec. 15, and the winners will be revealed during the January 2024 event.
Surf Expo featured a full schedule of events to keep attendees busy including learning labs presented by Board Retailers Association, fashion shows and happy hours.
Surf Expo will return January 10-12, 2024, to the Orange County Convention Center's West Concourse. Find out more about attending, exhibiting, sponsorships or other opportunities at surfexpo.com.
###
About Surf Expo
Surf Expo is the largest and longest running watersports, beach and resort lifestyle tradeshow in the world. Produced twice annually in January and September, Surf Expo draws buyers from stores across the U.S., the Caribbean, Central and South America and around the world. The show historically features hundreds of apparel and hardgoods brands and a full line-up of special events, education opportunities and awards ceremonies. Surf Expo is a trade-only event. Visit www.surfexpo.com for more information about the upcoming show September 7-9, 2023, in Orlando, Fla.
About Emerald
Emerald's talented and experienced team grows our customers' businesses 365 days a year through connections, content, and commerce. We expand connections that drive new business opportunities, product discovery, and relationships with over 140 annual events, matchmaking, and lead-gen services. We create content to ensure that our customers are on the cutting edge of their industries and are continually developing their skills. And we power commerce through efficient year-round buying and selling. We do all this by seamlessly integrating in-person and digital platforms and channels. Emerald is immersed in the industries we serve and committed to supporting the communities in which we operate. As true partners, we create experiences that inspire, amaze, and deliver breakthrough results. For more information, please visit emeraldx.com.
Media Contact
Amy Dufour
770-291-5476
amy.dufour@surfexpo.com