Show News
Surf Expo Riding the Success of New Bluewater Section into September 2018 Show
Posted 02/13/2018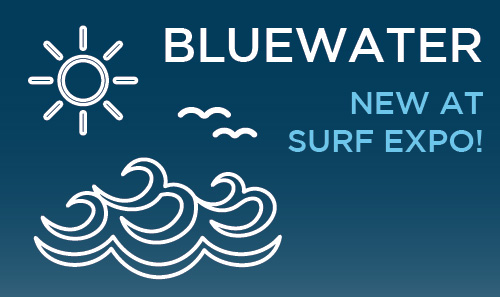 SAN JUAN CAPISTRANO, CA – February 12, 2018 – After a launch at their recent January show, Surf Expo will be expanding the new Bluewater section in the upcoming September 6-8, 2018 show. Bluewater showcases inshore and offshore apparel and accessory companies. The January show was anchored by outdoor industry company leaders Yeti, Salt Life, and Bimini Bay.
"One of the ideas behind Bluewater was to centralize our saltwater apparel and accessory exhibitors to make them easier to find for the buyers who come to the show," states Surf Expo Show Director Roy Turner. "The response from both attendees and exhibitors was resounding approval."
"It's a brand new section and its perfect for us. It fits our lifestyle," Jeff Stillwell, President of Salt Life said about the Bluewater section. "Everything we do is connected to the water. Where some people may be just a surf shop or sell surf boards or one particular thing, we're everything fishing, diving, surfing, so it's perfect for us. I hope they expand it."
Jon Staton, owner of Hooked Soul stated, "This was our fifth year at Surf Expo and our first time in the Bluewater section. Our location and neighbors were great and a success was had by many we could see. We look forward to growing our business in the new section."
Inspired by like-minded watersports brands, the Bluewater section connects to the waterman lifestyle that has always been a part of Surf Expo's DNA. Featured products ranged from performance and lifestyle apparel, accessories, outerwear, footwear, sportswear, dive and much more. The new section also had a Bluewater lounge sponsored by Hell's Bay Boatworks and a guest appearance by legendary waterman Flip Pallot.
"For us Surf Expo is an additional branding opportunity; another place for us to see our customers and meet potential customers. With the Bluewater section it just brings more and more of our type of customers to Surf Expo," added Chris Peterson, Owner/President of Hell's Bay Boatworks.
The Bluewater section for the September show will be centrally located on Surf Expo's show floor. It will be bordered by the Paddle and Surf sections offering crossover opportunities for buyers and sellers alike.
For more information contact Kenneth Andres, Category Manager. Kenneth.Andres@www.surfexpo.com.
About Surf Expo
Surf Expo is largest and longest running boardsports and beach/resort lifestyle tradeshow in the world. Produced annually in January and September the show draws buyers from specialty stores, major chains, resorts, cruise lines and beach rental companies across the U.S., the Caribbean, Central and South America and around the world. The next Surf Expo is September 6-8, 2018 with Demo Day September 4, in Orlando, Florida. Surf Expo is a trade-only event.
Surf Expo is owned by Emerald Expositions, the largest operator of business-to-business trade shows in the United States, with its oldest trade shows dating back over 110 years. The company operates more than 50 trade shows, including 31 of the top 250 trade shows in the country as ranked by TSNN, as well as numerous other events. Emerald Expositions' events connect over 500,000 global attendees and exhibitors and occupy over 6.7 million NSF of exhibition space. The company has been recognized with many awards and accolades that reflect industry leadership as well as the importance of its shows to the exhibitors and attendees they serve.
More information about Surf Expo can be found at surfexpo.com.