Show News
Surf Expo Named Top 250 Trade Shows in 2016
The Surf Expo September and January Shows Among the Top 250 Biggest and Best Shows of 2016.
Posted 03/20/2017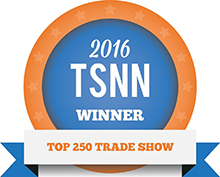 SAN JUAN CAPISTRANO, CA – March 20, 2017 – Trade Show News Network (TSNN) has announced Surf Expo among the Top 250 Trade Show for 2016. Each year, TSNN compiles a list of the Top 250 Trade Shows in the United States. Surf Expo earned spots 95 and 96 in this latest ranking for the January and their September shows.
Roy Turner, SVP and Surf Expo Show Director said, "It is an honor to again be ranked in the top 100 shows by TSNN. The Surf Expo team looks forward to a great 2017 and expansion of our show offerings."
Surf Expo is also eligible to be named TSNN's Top 50 fastest-growing shows for 2016. The recipients of that award will be announced this spring.
Since 2010 Surf Expo's two annual shows have been consistently awarded by the industry for growth in attendees, growth in exhibitors and net square footage. Earlier this year the show was awarded Trade Show Executive's Gold 100 Ranking of the Top 100 biggest and best shows.
TSNN is the world's leading online resource for the tradeshow, exhibition and event industry since 1996. TSNN owns and operates the most widely consulted event database on the Internet, containing data about more than 22,000 trade shows, exhibitions, public events and conferences.