Show News
Surf Expo kicks off the year with an exciting January show, delivering increased attendance and industry morale.
Posted 02/14/2018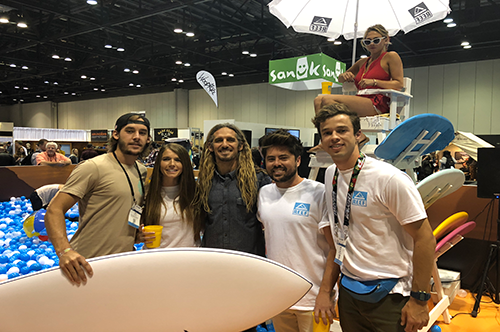 Surf Expo's January 2018 show in Orlando opened with a strong pulse and optimism flowing through the aisles throughout the three-day show.  The show featured more than 1,000 exhibiting companies showcasing 1,400+ brands and lines.
Roy Turner, SVP and Surf Expo Show Director commented, "We saw strong buyer attendance from all across the globe- from Hawaii to the Caribbean and from Costa Rica to Maine; representing stores in all categories including coastal shops and surf shops."
"It was really great to see so many stores from the Caribbean in particular who couldn't attend the last show due to Hurricane Irma," added Leslie Burbank, Manager & Buyer, Red Otter Outfitters.
The January edition of Surf Expo is surf hardgoods and accessory focused, showing the latest boards from brands including Firewire, Slater Designs, WRV, Rusty Surfboards, Pyzel, Savage and Ricky Carroll. Key events included the Florida Shape Off and the 2018 Induction Ceremony for the East Coast Surfing Hall of Fame.
Dan McNamara, CEO of Pyzel Surfboards commented, "Surf Expo is a great show for us to connect with all of our retailers and spend some quality time talking shop and getting some real business done. It's one of the best national surf shows there is. "

Surf Expo's January 2018 show in Orlando opened with a strong pulse and optimism flowing through the aisles throughout the three-day show.  The show featured more than 1,000 exhibiting companies showcasing 1,400+ brands and lines.
Brenton Schulze, second time exhibitor 4Ocean's Director of Sales said, "As a burgeoning startup company, Surf Expo was our first choice on the list of shows out there, and rightly so. Our ROI exceeded expectations and I absolutely plan on not only continuing to participate, but growing that participation in years to come."
Surf Expo's new Bluewater section made its debut, with a collection of apparel and accessory brands catering to the inshore/offshore saltwater lifestyle, including YETI, Salt Life, Scales, Heybo Outdoors, Bimini Bay Outfitters, and Sunday Afternoons. Industry icon Flip Pallot was the guest of honor at the Bluewater Happy Hour. Two flats boats from Hell's Bay Boatworks were the centerpiece display in the new section.
"For us, Surf Expo is an additional branding opportunity; another place for us to see our customers and meet potential ones. With the Bluewater section it just brings more and more of our type of customers to Surf Expo," said Chris Peterson, Owner/President of Hell's Bay Boatworks.
The show featured two fashion shows each day, a full line up of Professional Learning labs led by industry experts on topics ranging from How to Win on Amazon's Buy Box & Amazon Fulfillment Strategies, to Retail Cash Flow Improvement Tools and Content Strategies for Winning on Google.
Event Highlights
The Florida Shape Off sponsored by Vissla attracted a crowd around the shaping bay each day to watch the craftsmen at work live during the show. The collaboration with Vissla's Creators and Innovators mantra brought the area to life with a vintage East Coast surfboard display, the Dream Steeple van that was built by Jay Nelson, open D'Blanc cube with podium curation, and custom resin work from Stokehouse Unlimiteds' owner, Paul Naude. The curated space was designed to feel open, and allow the shows attendees to experience the space. The Surfboards were a natural draw and the Dream Steeple made young and old envision sunny days on the beach and driving along the coast.
Shapers from across the country competed to replicate an iconic Richard Munson board, as a tribute to Munson's contribution to the art of surfboard shaping and the industry. The shaping began on Thursday with Jeff Haney, followed by Stu Sharpe and Jesse Fernandez. Friday's line up included Carl Schaper, Bill Johnson and Jordan Brazie the 2017 Shape Off Winner. Pat Rawson and Costa Rica's Juan Diego Evangelista rounded out the competition on Saturday. After close scrutiny by the panel of judges, Cocoa Beach's Stu Sharpe took home the $1,000 prize and trophy, and Jeff Haney was runner up.
The 2018 East Coast Surfing Hall of Fame Induction ceremony was held on Friday night. The evening opened with introduction of the next generation of young surfing hopefuls as the 2018 ESA All Star Team's 35 members took the stage in front of an audience of generations of surfers gathered to celebrate and honor the sport and the athletes.
The night was an epic gathering of the who's who in the surf industry to honor and celebrate the induction of the latest class into the East Coast Surfing Hall of Fame for their contributions to East Coast surfing. Inductees included the Southeast's Ben Bourgeois, Mickey McCarthy, Johnson, David Nuckles, Debra Swaney, David Carson and Scott Busbey, and Greg "Grog" Mesanko, Kevin Grondin and Skill Johnson from the northeast. The second-ever Special Recognition Award was bestowed upon Alexander Hume Ford, played an immense role in the spread of surfing's popularity in Hawaii in the early 1900's.
The Skate Park at Surf Expo featured a mini ramp build by Team Pain and a flat ground area for electric skateboards. Skaters from shop teams from across the country competed in Mini Ramp Clash, presented by All I Need skateboards.  Evan Mansolillo from Naraganset Surf Shop in RI took first place, Kevin Klemme from Solstice Skate Shop in New Bedford MA placed second, Joe Handy from Talent Skatepark & Shop in South Burlington VT took third place, Chase Lieder from Sunset Surf Shack in Montauk NY and 2018 ESA All Star Team member, took fourth place, followed by Meagan Guy from Graffiti Skate Zone in Palm Bay Florida in fifth place.
Jim Archibald, Owner of Archie's Surf Shop in Ontario, Canada has been buying at Surf Expo for more than 33 years and said, "Surf Expo produces an elite show, one we all enjoy attending and can't wait until the next one." He added, "That cannot be said for many other shows. It's really well thought out and very productive for us."
Surf Expo's next show is September 6-8, 2018, with Demo Day on September 5. This will be the second Demo Day at their new location at Bill Frederick Park, at Turkey Lake. Registration for the September show will open in mid April.