Show News
Surf Expo's Roy Turner inducted into the Wrightsville Beach Waterman Hall of Fame Class of 2017
Posted 10/11/2017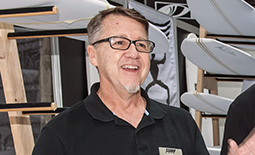 October 9, 2017 – Wrightsville Beach Museum's Waterman Hall of Fame Announcement of Class of 2017
The Wrightsville Beach Museum is proud to announce the museum's Waterman Hall of Fame Class of 2017. Join us as we celebrate the importance of water culture within our community and the men and women who not only excel in water professions and/or sports, but also give back to this community in a variety of meaningful ways.
Roy Turner – Surfing – Special Recognition
Nancy Fahey – Local Hero
Ryan McInnis – Diving
Reggie Barnes – Beach Culture
Sammy Corbett – Pioneer – Fishing
Murray Seidel – Sailing
Description: The Waterman Hall of Fame was created to reflect the importance of community spirit and personal contributions within the culture of water sports and professions throughout the history of Wrightsville Beach. It is a celebration of watermen and women who represent sportsmanship both in and out of the water. Those we recognize with this award exemplify the best of Wrightsville Beach in their character, demeanor, and spirit both in competition and in their respect for the community. The Hall of Fame is intended to be a lasting tribute to the achievements of the generations of Wrightsville Beach watermen and women who have shaped this community and its relationship with the water.
The Hall of Fame Celebration will be held 1 PM – 4 PM, on Sunday, October 15, at the Blockade Runner Beach Resort, Wrightsville Beach.
The program will include induction of the Class of 2017, a time of remembrance for the watermen and women who have been lost in the past year, a slide show of the inductees, and a silent auction to benefit the museum. Cash bar, light refreshments, and live music, The names and information on any fallen watermen should be sent to Skipper Funderburg (skipper_funderburg@yahoo.com)
Wrightsville Beach Museum of History, (910) 256-2569