Industry News
PHOOZY launches lightweight, climate-proof everyday carry pouch
Posted 09/07/2022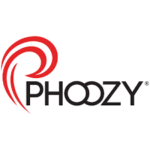 CHARLOTTE, NC (September 5, 2022) – PHOOZY, maker of sink-proof, drop-proof, thermal protective cases for tech, announces today the launch of its first everyday carry pouch, the Orion Capsule.
The Orion Capsule is designed to carry your phone, essential personal items and your passport, credit cards and ID. Water, snow, sand and mud don't stand a chance against the ultra-rugged X-Tec Shell and HydraGuard Zippers, while the patented spacesuit technology inside keeps phones from overheating in the sun or losing battery life in the cold. Add in military-grade drop protection, an antimicrobial lining and RFID Blocking Passport pocket, and you've got the ultimate adventure travel pouch.
"We are stoked to launch the Orion Capsule as it is one of the most versatile products we make. Fully weatherproof, drop-proof, lightweight and functional for every day carry and every adventure," said PHOOZY co-founder and CEO Kevin Conway. "The new Orion Capsule is a direct result of listening to our customers and designing a product that fits their lifestyle."
The Orion Capsule will be available for purchase online at phoozy.com and on Amazon starting November 1, 2022.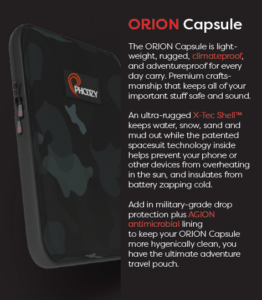 ###
ABOUT PHOOZY
PHOOZY empowers technology users to pursue their passions and epic adventures without worry of environmental limitations. PHOOZY products provide thermal, drop and float protection (and now antimicrobial protection) for smartphones, tablets, laptops, accessories and now, your favorite drinks. PHOOZY is dedicated to inspiring its customers to live an active lifestyle fueled by their passions and thirst for adventure without limitations. PHOOZY is the #1 selling thermal protection brand. PHOOZY products are available at REI, Amazon, local outdoor/ snow / surf shops, and other leading retailers throughout the United States, Europe, and Australia.
MEDIA CONTACT:
Jade Schwarting
(317) 460-3464