Show News
Love thy turtle to Debut Beach Gear and Encourage Sea Turtle Adoptions at Surf Expo 2023
New Apparel, Beach Cleanup Kits & Sea Turtle Nest Barrier Tape
Posted 08/29/2023


Orlando, FL — September 6, 2023 –  Love thy turtle was founded with a deep commitment to educating the public about sea turtles by providing tools to protect nesting sites and by acting as a conduit to the adoption/donation pages of sea turtle organizations up and down our coasts. If there is one group of people who can appreciate this goal, it is the beach and sport enthusiasts that comprise Surf Expo exhibitors' founders and customers.
"This is a group of people who truly value our majestic coastal environment and the incredible creatures like sea turtles that inhabit it," says Keith Dorman, founder and managing director of Love thy turtle. "They want to support conservation efforts and Love thy turtle wants to show them how."
During the Expo Sept 7th through the 9th, visitors can meet the Love thy turtle team at Booth #3740, and check out the sea turtle nest barrier tape on display. Here, event goers can scan the QR code on the tape and adopt a sea turtle in seconds. There will be new Love thy turtle branded apparel and new Beach Cleanup Kits, made from all natural materials, which can be used for community beach clean up events.
What makes Love thy turtle's biodegradable barrier tape different is; the eye-catching color, more descriptive text, it's reusable, and above all, a QR code printed on the tape that says, "Adopt-A-Turtle." "I'm thrilled to have the opportunity to show everyone at Surf Expo how this tape really helps drive sea turtle awareness, sea turtle education and donations," says Dorman.
Along with the sea turtle nest barrier tape, Love thy turtle will introduce their first ever "Trucker Hat," which features a 3D embroidered logo patch, a white and blue sandwiched visor, a burlap crown and a snapback made from recycled plastic. In addition, Love thy turtle has added their signature turtle tape, which is subtly stitched on the inside of the hat's crown.
The theme of subtly adding the company's turtle tape to their products can also be seen with the debut of their line of shirts. The 100% Organic cotton ladies-cut T-shirt, regular T-shirt and "Turtle Patrol" Polo shirts all have the turtle tape sewn on the inside of the shirt sleeve's cuff. A wood button is added slightly above for those who wish to secure the cuff and reveal the tape. The placement of the Love thy turtle embroidered logo on the shirts isn't left or centered, but somewhere in-between, which lays upon the heart of the person wearing the shirt.
The Beach Cleanup Kit's bag is woven from natural jute fibers and the liner is made from natural cotton. Wood buttons are used to hold the liner in place, but can be removed to be emptied.  Again, Love thy turtle turtle tape is sewn on the inside, not outside, of the bag's strap. What's also unique are the tongs that are included in the kit. They are made from natural bamboo and have the Love thy turtle logo burned onto the side. Currently, many community cleanups are conducted using plastic buckets and plastic tongs. The plastic is what's killing the sea turtles so in an effort to break away from plastic, Love thy turtle has created a plastic-free version.
"After learning how plastics and other environmental conditions have led to an 80 percent decline in the sea turtle population, I realized I needed to do something," says Dorman. It is estimated that over 50 percent of sea turtles have ingested plastic, which is contributing to their population decline.
The very first Love thy turtle sea turtle nest was marked by the Topsail Turtle Project on July 6, 2023, a group led by Terry Meyer, Deputy and Conservation Director of the Karen Beasley Sea Turtle Rescue and Rehabilitation Center in Surf City, North Carolina. "It's so cool! The QR code is awesome," says Meyer. "My cheeks are still hurting from smiling after receiving a picture of our very first nest," says Dorman. "We are raising sea turtle awareness, one nest at a time."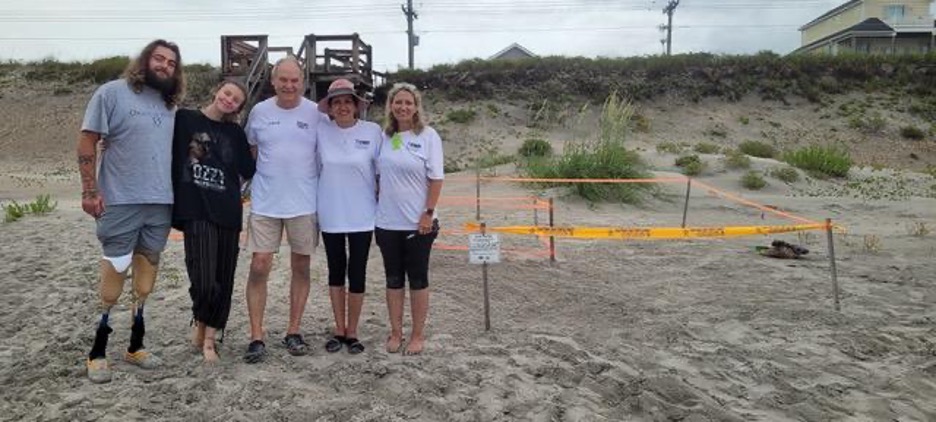 L-R
William Akridge, Ali Akridge, Steve Miller, Carol Roach, Trudy Solomon.
Photo credit: KBSTRRC.
About Love thy turtle
Love thy turtle (https://lovethyturtle.com/) is committed to protecting sea turtles through community outreach and education. Engaging local communities with sea turtles and their habitats, Love thy turtle hopes to inspire individuals to take action in support of conservation efforts. One way Love thy turtle helps save sea turtles is by sharing information about other organizations that specialize in sea turtle conservation. By promoting and supporting these organizations, Love thy turtle can help to ensure that injured or sick sea turtles receive the care they need to recover and return to their natural habitats.
Media inquiries:
Valerie Silverman Kerr
VSK Public Relations, LLC
valerie@vsk-publicrelations.com
914-806-6647
Linda Falcone
VSK Public Relations, LLC
917-414-9583