Industry News
Lensbaby Inspires New Audiences With the Fun and Accessible Sol 45
A tool to inspire. A tool to be bold. A tool to build memories.
Posted 08/07/2018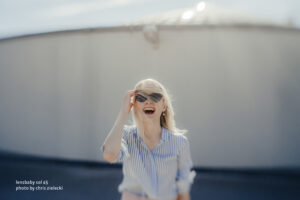 Portland, OR (August 7th) – Lensbaby—makers of award-winning creative effects lenses, optics and accessories—announces the launch of their most playful and accessible lens yet, the Sol 45.
"Sol 45 opens up a new creative experience for those who want to dip their toes in the Lensbaby pool," said Craig Strong Lensbaby Co-Founder and CCO. "Sol inspires visual artists to find new and fun ways to see their world by creating unique images in camera – no filters needed."
The Sol 45 responds to those curious and insightful individuals who desire intention, imagination, and passion within each experience they live. This fixed aperture lens features an ease-of-use that injects the classic Lensbaby energy into images while creating a fun photography experience that benefits from the creation of unique photos that are representative of the users' passions.
Users simply identify a subject in frame, bend the lens toward it, rotate the focus ring to bring subject into focus and shoot, ultimately creating a tack-sharp circular area of focus surrounded by bold blur and smooth bokeh. In addition, users can bring the lens's bokeh blades – situated on hinged arms hiding at the edge of the lens – into the lens's field of view. These bokeh blades add subtle lines of texture in-camera to the bokeh, creating stylized texture effects that many photographers only experience post-edit.
Since 2004, Lensbaby has challenged photographers to make their creative process one that distinctly captures the voice they find behind the camera. Today, the Sol 45 opens this door to all creatives, regardless of skill level. Enthusiast DSLR and mirrorless camera shooters, especially those who are newer to Lensbaby, now have the opportunity to experiment with the brand's iconic look for an affordable price of $199.95.
The Sol 45 is made specifically for DSLR and mirrorless cameras, and is compatible with Canon EF, Nikon F, Sony A, Pentax K, Sony E, and Fuji X. The lens will also be available in a 22mm version specifically for Micro 4/3rd shooters. The Micro 4/3rd community is a passionate group who has embraced Lensbaby for years, all while longing for lenses tailored specifically for them. The Sol 22 was developed in a 22mm focal length (44mm equivalent) to serve these photographers.
For more information about the Sol Lenses please visit: https://sol.lensbaby.com/. The Sol 45 will be available for purchase on: https://lensbaby.com/product/sol45mm/ and select Lensbaby-authorized retailers for $199.95 on August 7th, 2018, and the Sol 22 will be available for purchase in September at: https://lensbaby.com/product/sol22mm/ . For more information please contact Keri Friedman at keri@lensbaby.com or Elizabeth Gerken with Groundswell PR at Elizabeth@groundswellpr.com.
About Lensbaby:
For over a decade Portland, Oregon-based Lensbaby has inspired and challenged photographers on their journey to finding their unique, visual voice. Lensbaby makes award-winning, one-of-a-kind lenses, optics and accessories for risk-taking photographers who believe that photography is an expression of their soul. Lensbaby provides instructional content through their educational hub, Lensbaby University and sells its products worldwide. For more information, visit www.lensbaby.com