Show News
SIMA Marks the Float Collective Campaign Launch with a Special Event In Huntington Beach, CA.
Celebrate the Surf Industry Coming Together to Help Those in Need at The Bungalow on June 22, 2017
Posted 06/02/2017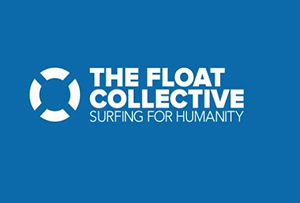 Laguna Niguel, Calif. (June 1, 2017) – SIMA (Surf Industry Manufacturers Association) announces the anticipated launch of The Float Collective, its new initiative centered on unifying the surf industry with the goal of giving back to those in need. Celebrating the spirit of surfing for humanity, the campaign brings together the industry's leading brands, most premium specialty retailers and globally recognized ambassadors to raise awareness and proceeds for the SIMA Humanitarian Fund. Grounded with the simple mission to "do the most good," the SIMA Humanitarian Fund was established to support non-profit organizations that utilize surfing or boardsports to improve the quality of life, health and welfare of people experiencing hardships. To mark the campaign launch, SIMA will host an exclusive event at The Bungalow in Huntington Beach, CA on Thursday June 22, 2017. Guests are invited to join from 6:00 – 8:30 p.m. where a suggested $20.00 donation includes party access, a Float Collective bracelet, cocktails and light bites.
"We are excited to celebrate with our brand partners, retailers and members as we kick off our campaign at The Bungalow. It is going to be an amazing evening that not only unites our industry, but the local community as we raise awareness and support for our beneficiaries," said Dylan Slater, president of the SIMA Humanitarian Fund Board of Directors. "The unified effort of The Float Collective campaign helps maintain important programs for adults and youth alike and we are humbled to be able to be able to support each organization's efforts while doing what we love — creating and showcasing epic products."
The 2017 beneficiaries of the SIMA Humanitarian Fund benefiting from the Float Collective campaign include: AccesSurf, Amazing Surf Adventures, Best Day Foundation, Boys to Men, Cystic Fibrosis Foundation, Jimmy Miller Memorial Foundation, John Wayne Cancer Foundation, Life Rolls On, Mauli Ola Foundation, Outdoor Outreach, STOKED Mentoring, SurfAid, Surfers Healing and Valpo Surf Project.
Coinciding with the June event, The Float Collective bracelet and partner products will also launch at select specialty retailers. Each bracelet sale provides a significant contribution to the SIMA Humanitarian Fund. These bracelets can be found at South Coast Surf Shop, Ron Jon Surf Shop, Val Surf, Heritage Surf & Sport, Spyder, Maui Nix, Brave New World, BC Surf & Sport, Sun Diego Board Shop, Aqua East Surf Shop, Jack's Surfboards, Hansen Surfboards, Island Water Sports, Surf Ride and Huntington Surf & Sport, among others. Partner products, finished in Float Collective's signature blue color with special branding, will contribute an additional percentage of proceeds from each sale to the cause. Participating brands— including Corkcicle, Electric, Nixon, Quiksilver, Raw Elements, Rip Curl, Roark, RVCA and Stance— have designed a unique collection of apparel, accessories and gear to support the campaign.
In addition to member and retailer support, The Float Collective campaign will be backed by an impressive cast of ambassadors, including pro surfers Conner Coffin, Taylor Knox, Alana Blanchard, Kala Alexander, Kanoa Igarashi, Miguel Pupo, Jack Freestone and Sage Erickson, as well as Grammy award winning band and surfers, Switchfoot. Campaign content from ambassadors will stream across social media and with select media partners, including: BUST, Eastern Surf Magazine, Gear Patrol, He rewith, The Red Bulletin, Refinery29, Stay Wild, Surfer Magazine, Surfline, The Inertia, Transworld Business and Yoga Journal. The Float Collective is also supported by: Fernando and Santiago Aquerre and Families, Cinco Design, TURNER and Eleets 3PL.
For information on the initiative, Float Collective products and the launch event, please visit simafloatcollective.com.
SAVE THE DATE! The Float Collective Launch Event Thursday, June 22, 2017 6:00 – 8:30 p.m. The Bungalow HB, 21058 Pacific Coast Highway, Suite 240, Huntington Beach, CA 92648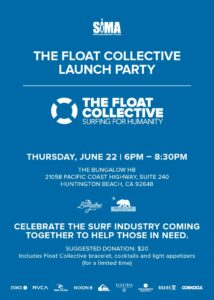 About SIMA The Surf Industry Manufacturers Association (SIMA) is the official working trade association of more than 300 surf industry suppliers. Founded in 1989, SIMA is a non-profit organization that serves to promote awareness of the surf industry and participation in the sport of surfing through public relations efforts and a variety of services, educational programs and research. In addition, SIMA actively supports oceanic environmental efforts through its 501(c)(3) charitable environmental foundation, the SIMA Environmental Fund. In the past 26 years, SIMA's Environmental Fund has raised more than $7 million for environmental groups seeking to protect the world's oceans, beaches and waves. The SIMA Humanitarian Fund, also a 501(c)(3) charitable foundation, was established in to award grants to various surf or boardsport related social and humanitarian non-profit organizations whose efforts are focused on improving the quality of life, health and/or welfare of people. Since 2004, the SIMA Humanitarian Fund has raised and donated more than $1.7 million to surf-related non-profit organizations. For more information regarding SIMA, please visit www.sima.com.
Media Contact: TURNER | Kim Rodgers Kim.Rodgers@turnerpr.com | 212-889-1700