Show News
Checking in with Fish Hippie Company, Feather 4 Arrow, Tommy Bahama, Smith and Quinn, and Exist USA
Posted 11/16/2023 | By: Bart Schaneman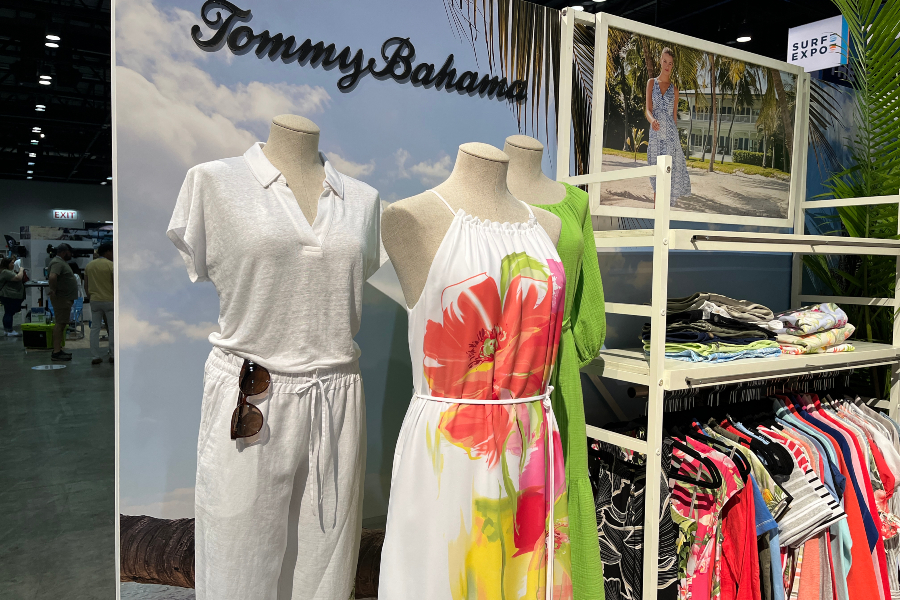 At Surf Expo in September, exhibitors were showcasing brand new products and offerings, including new fabrics, custom-made designs, and expanded apparel lines.
We checked in with exhibitors Fish Hippie Company, Feather 4 Arrow, Tommy Bahama, Smith and Quinn, and ExistUSA, to see what they were excited about this year, and how they felt about their Surf Expo experience.
All About the Fabrics
At Fish Hippie Company, an apparel brand based in Mount Airy, North Carolina, the new items are a focus on fresh materials.
"It's all about the fabrics right now," said John Griffin, sales manager at Fish Hippie Company. He was touting their graphic T-shirts made from rayon and cotton.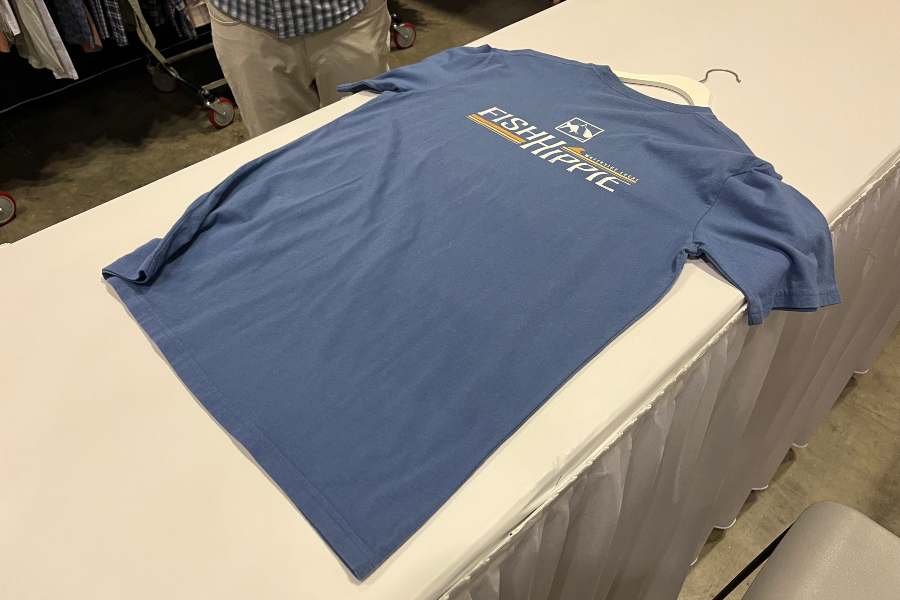 Griffin added that they're doing a lot of business in Florida, because "the fabrics and the colors are right."
Fish Hippie's button-up printed shirts have also been selling well.
"We're selling everything we've got in those things," Griffin said.
The brand offers sun protection in its performance-based apparel, including hoodies. Fish Hippie's shorts, which have a performance element as well, can double as casual wear.
Griffin said the company had a steady flow of appointments at Surf Expo.
"We've had several really good hits," he added. "Everybody's showing up. It's really positive."
Lined Boardshorts for Kids
Southern California kids' lifestyle brand Feather 4 Arrow was showcasing new styles and its extended range of products. For example, they added a terry towel collection, with towels for babies and kids.
Feather 4 Arrow also has eight new styles of swimsuits, from one-pieces to bikinis. It recently added sewn-in liners to its boardshorts so they are non-chafing and breathable.
They all come with sewn-in pockets and are made with four-way stretch material.
They retail for $46-$50 for kids up to age 14.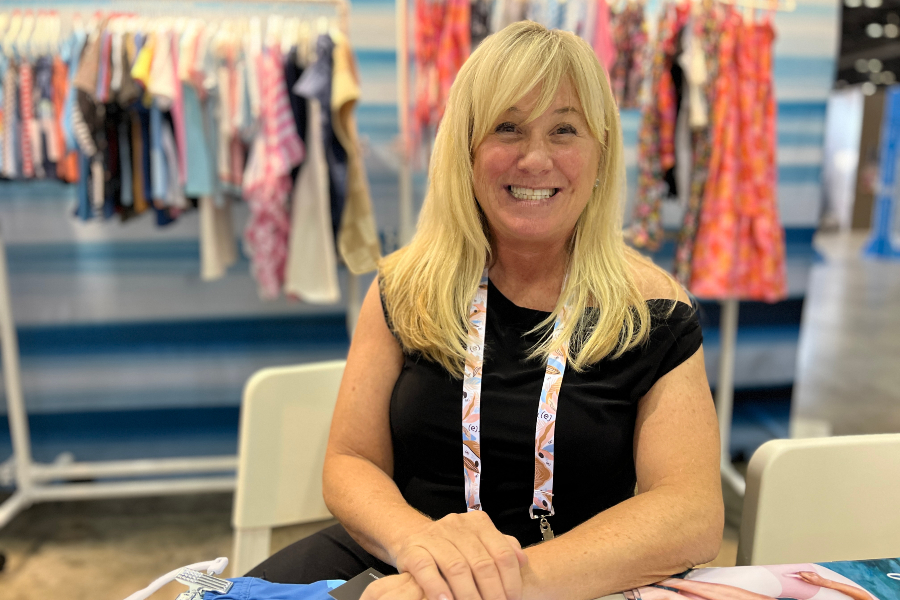 Julie Rich of Feather 4 Arrow.
Feather 4 Arrow has been coming to Surf Expo for 12 years.
"It's a great show for us," said Julie Rich, president of the brand. "It's where we see all of our buyers from the islands, and some of the big, international chains."
Gaining Exposure
Sportswear brand Tommy Bahama works hard to continually evolve its product offering as it passes the three-decade mark.
To do that, Peter Leff, executive vice president of Tommy Bahama, said the company is following trends, including making at least 30% of its clothing line with technical fabric.
The fit of the brand's clothing is also more current and less "voluminous" to evolve with the market, he added.
"We feel really grateful to be able to still appeal to the guests at this show," Leff said. "Because this feels like a little bit of a younger show. We're a brand that's been around for over 30 years. The fact that we've got enough innovation in our product to stay young enough to be able to still appeal to this crowd is really good."
Leff said the brand had a good experience at Surf Expo by gaining exposure to new accounts and meeting people who weren't familiar with the brand.
"We hope to come out of here with five, seven, 10 new accounts each time to replace some of the accounts that go out of business," he added.
In-House Design
Apparel brand Smith and Quinn was showcasing its custom products made by its in-house design team.
"We have a team that can design custom prints for accounts and it's specific to them," said Kendall Andes, national sales director for Smith and Quinn. "Whether it's their logo or their city or certain schools."
The design is done at their Annapolis, Maryland headquarters.
Smith and Quinn prides itself on its custom colors and custom prints, which are all designed by owner Kaeli Smith.
"The colors are just so vibrant and they pair so well together," Andes said. "We're really proud of our prints."
Holding Steady 
At ExistUSA, co-owner Joshua Glickman said the distribution company has been working through obstacles after the COVID-19 pandemic, but his business was doing well overall.
Glickman added that Surf Expo September had been "steady" for Exist, with a lot of appointments.
"For us, Surf Expo has stayed one of the strongest shows versus other shows," he said.